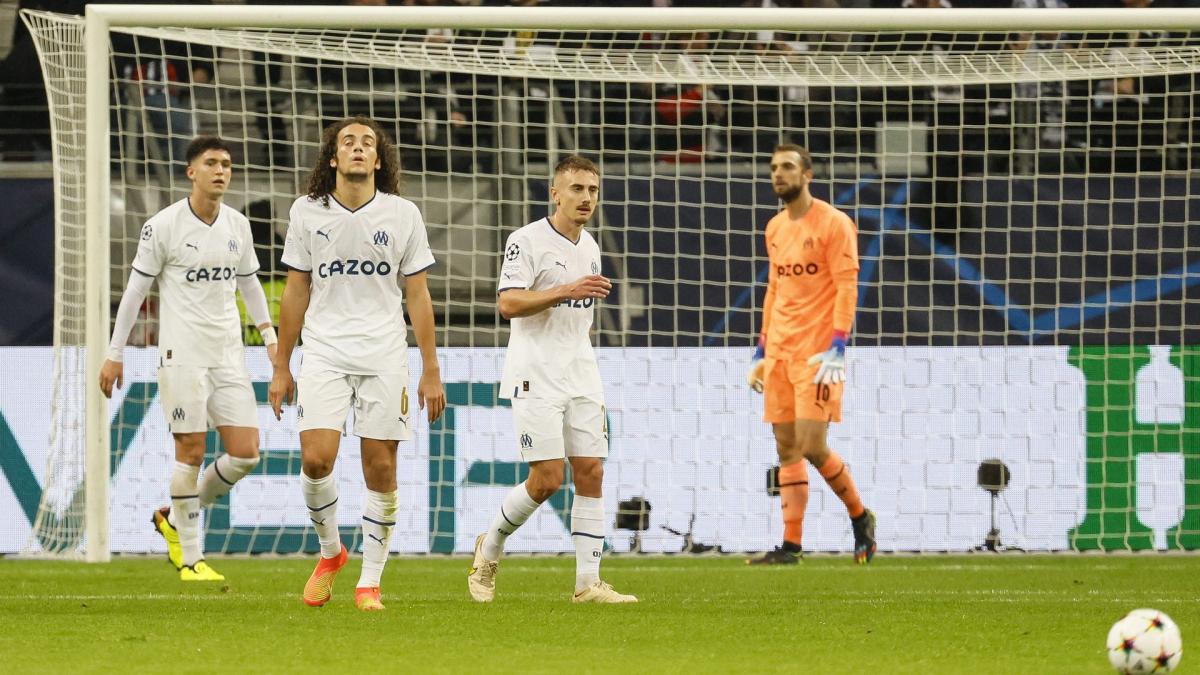 This Wednesday evening, Olympique de Marseille traveled to Frankfurt, at Deutsche Bank Park, on behalf of the fifth day of the Champions League. An oh so important evening since before this confrontation, the Phocaeans were ranked second in this very homogeneous Group D.
Yes, but now, OM lost (1-2) and now find themselves in the last position of the group. To qualify, they will have to beat Tottenham at the Orange Vélodrome next Tuesday. But let's go back to this cold Frankfurt night in a white-hot Deutsche Bank Park. From the third minute, the OM defenders were picked off cold by Kamada.
A beleaguered environment
This goal is the symptom of what we could observe at the top of the German stadium. Inefficient pressing from Harit and Clauss, a Mbemba who had forgotten to defend, a Gigot too naive for this level and a Pau Lopez who was right to be exhausted from the defensive mistakes of his team. Valentin Rongier could harangue his teammates as much as he wanted just before kick-off, he himself was extremely far from the action of the goal. Complicated for a defensive midfielder.
Because all the aforementioned problems were found with each German perforation in the Marseille camp. Midfielders with absent subscribers, despite the incessant and useless races of Jordan Veretout. We still wonder where Valentin Rongier was, yet so good at destruction in Ligue 1.
The pistons still don't know how to defend and you can be sure that when he can make it simple, Nuno Tavares will always make it complicated. Clauss, he does not attack and does not defend, or badly. The three behind also had a complicated evening. Balerdi did win a few duels, but made a mistake that would have been costly if Lopez was not careful. Samuel Gigot missed out and Kolasinac, who replaced him, did not have much more impact. Finally Chancel Mbemba turned into a quarterback tonight. He preferred to cross (good, since he offers an assist) than to defend.
A passive defense
The body language of some challenged, including that of Nuno Tavares, who replaced himself at a slow trot and Chancel Mbemba who played ball boys when it was on fire defensively. Tonight, unlike Lens, this weekend, they missed out collectively. Igor Tudor, OM coach, at a press conference, did a lot to reassure everyone…
" I haven't seen that. They created danger, so did we. There were some on both sides. Playing like that, in their stadium, against a team that won the Europa League… We put the content to win or to snatch a draw and in the end we lose, it's played on details. I saw positive things. We have this final in five or six days. We don't have to break our heads, it's the match of the year. The way we have played so far, we deserve to qualify. We're good enough for that. All these five matches, there is something to be proud of. We were brave, we won and we lost some, but the approach, the way we jostled these big teams. It makes me proud, the players can be too. Now, we never like to lose. Who likes this? The players deserve this final and they will have it. The game has only just begun "Explained the Croatian giant all smiles.