Advertisement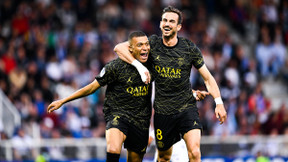 Advertisement
Advertisement
Advertisement
Eager to satisfy Kylian Mbappé on the transfer window, the management of PSG would think in particular of Ousmane Dembélé. Nevertheless, the versatile FC Barcelona winger would not have been approached by the Parisian club.
It seems like Kylian Mbappe be placed at the center of the sports project of the PSG and this, although he can freely leave in the summer of 2024 by deciding not to activate the final year of his contract. Lionel Messi And Neymar are forced to leave the Paris Saint Germain in the offseason.
Ousmane Dembélé at PSG to fill Kylian Mbappé?
The PSG management committee would like to surround Kylian Mbappe the best possible. To do this, the club would be interested in particular in relatives of the tricolor world champion like bernardo silva, Randall kolo Muani And… Ousmane Dembele ? The name of the winger heart rate Barcelona occasionally comes up in the press, but the Spanish champion has not yet been approached.
PSG: A €200m bomb is dropped on Mbappé, Haaland is involved https://t.co/X60hZ9kFPx pic.twitter.com/GAhUq0l6X6

— 24hfootnews (@24hfootnews) May 26, 2023
Dembélé, not approached by PSG?
This is in fact the information communicated by SPORT this Friday. The Catalan daily reveals that no member of the management of the PSG would not have deigned to contact Ousmane Dembele and his surroundings. Moreover, the clan Dembele would discuss with the heart rate Barcelona the extension of his current contract until June 2024. The PSG is warned.