Advertisement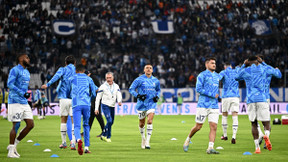 Advertisement
Advertisement
Advertisement
Arriving as a rockstar last August, Alexis Sanchez is having a full season with OM. Although he is fulfilled in his new adventure, the Chilean recently warned his club about his future. He wants to extend on condition that OM recruit well to be competitive in the Champions League. But for Florent Germain, the Marseille club will not necessarily comply with his requests.
Alexis Sanchez wears OM this season. The Chilean striker has 12 goals in 25 games. League 1. Become indispensable in the eyes ofIgor Tudorhe still has not settled his contractual situation. Sanchez wants to extend but is waiting for guarantees in the recruitment of his club. But then, OM will he put himself in danger to convince his star to stay? For Florent GermainThe answer is no !
Concern at OM, good news falls https://t.co/0PEAcQyofv pic.twitter.com/k7acNPrNN2

— 24hfootnews (@24hfootnews) March 31, 2023
"He wants an ambitious OM"
Alexis Sanchez had set the tone at a press conference as to his conditions for staying at OM. In After Football, Florent Germain confirmed the requests of the Chilean star. " He signed for a year, but a second year was negotiated and the deal is we see each other at the end of the season to see if we do this second year or not. Financially, there will be no real negotiations. He will keep the same salary except for a few tens of thousands of euros. It is 3M net per year, a little more. The question is more sporty. He wants an ambitious OM, he wants to win, he didn't like that OM finished last in their group in the Champions League ", reveals the journalist for RMC Sports. However, OM don't intend to give in.
"They are not going to put the club in danger"
" He had a very bad experience of the hiccup against Annecy. This is a real question mark for many. I don't know what he will do next season. We are guaranteed that he has not made a decision, that they will see each other at the end of the season because it will depend above all on qualifying for the Champions League. From what I understood, OM love their season, they are delighted with Sanchez, but they are not going to put the club in danger to recruit and please the Chilean ", added Florent Germain. Pablo Longoria recalled at the start of the season that no one was irreplaceable, he will not make exceptions to Alexis Sanchez.