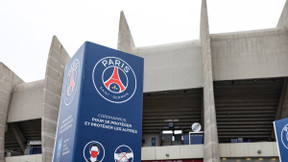 Advertisement
Advertisement
The Wanda Nara/Mauro Icardi soap opera continues. Lately, the rumors have started again after the PSG striker was seen in a nightclub in the company of three models. But invited to speak on Argentine television, Wanda Nara wanted to make things clear and declared her love for the player, on loan to Galatasaray.
Divorce or not? For long weeks, the story between Wanda Nara and Mauro Icardi has taken on the appearance of a telenovela. Twists and turns, betrayal… All the ingredients were there to arouse curiosity. Some thought the story wasn't going to have a happy ending after Wanda Nara announced his separation from the striker of the PSG, loaned until the end of the season to Galatasaray. But in the end, all's well that ends well. Recently, Wanda Nara announced her reconciliation with Icardi.
"I don't give a damn": Dragged by Mbappé, she gave him a big rake https://t.co/Hn3BlVNVec pic.twitter.com/sVefpET9nW

— 24hfootnews (@24hfootnews) March 18, 2023
Icardi spotted with three models
But the Argentine press revived this soap opera by broadcasting pictures of Mauro Icardi with three models in a nightclub. The question was posed by the media: has the Argentinian international been unfaithful, while rumors suggest an affair between nara And Keita Baldegoalscorer Spartak Moscow ? Guest of the show Socios del spectaculo, the young woman wanted to clear things up and put out the fire.
"Mauro is the man of my life. He is my family"
" They are the wives of the technicians. I know them all. I don't know where you're coming from, but I'm very traditional. Mauro is the man of my life. He is my family. We have been married for almost ten years, it's a chance for me (…) Let's hope it lasts a lifetime. He didn't fall in love with me at the disco, but when I was making pasta with butter and parmesan cheese in my pajamas. " said Wanda Nara. End clap.