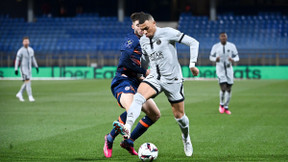 Advertisement
Advertisement
Wednesday evening, Kylian Mbappé was injured during the trip to Montpellier (3-1). But while Christophe Galtier did not seem particularly worried after the match, PSG however communicated a three-week unavailability, which could deprive the French striker of the clash against Bayern Munich. But Julian Nagelsmann finds it hard to believe.
That the PSG feared the most happened Wednesday night at La Mosson. In effect, Kylian Mbappe went out on injury very early in the match against Montpellier. In the aftermath, Christophe Galtier didn't seem particularly worried about his star. " Doesn't seem like a big deal "confided the coach of the PSG which ensured at the same time that there was " don't worry too much ". And yet, as of Thursday, the verdict fell. Kylian Mbappe suffers " a lesion of the left thigh at the level of the biceps femoris ", as the club explains not through a press release which specifies that Bondy's crack will be absent for three weeks.
After the Mbappé disaster, PSG puts the pressure on https://t.co/N8sxYeaw4M pic.twitter.com/9w2zYhlm5E

— 24hfootnews (@24hfootnews) February 3, 2023
Nagelsmann thinks PSG are bluffing
Therefore, if the deadlines are met, Kylian Mbappe will not be handed over to face the Bayern Munich February 14 on the occasion of the round of 16 first leg of the Champions League. Nevertheless, Julian Nagelsmann does not believe it for a single second and prepares to challenge the French striker at Princes Park. " I don't think he's missing. I don't expect anything else. I don't know what he has. It's relatively vague on the PSG website. I can't imagine him being absent. Of course, they can bluff and not indicate structural injury. "says the Bavarian coach at a press conference, convinced that the PSG bluff about the duration of the unavailability of Kylian Mbappe.
Galtier confirms for Mbappé
Despite everything, Christophe Galtier, also present at the press conference, confirmed that " Mbappé will be out for about three weeks. » Therefore, the coach of the PSG prepares to play without his number 7." We are in a unique season, with a World Cup in the middle, and I realize that in many other clubs with many internationals, there are injuries. We are unhappy for Kylian, but we can't have a season without having physical problems, it's part of a season. Was it preventable? I think we took a lot of precautions for Kylian's return. After these two games after the World Cup, he had 12 or 13 days, he had a gradual return. I don't think Kylian has played too much, and from the moment you play there is always an element of risk », adds Christophe Galtier.