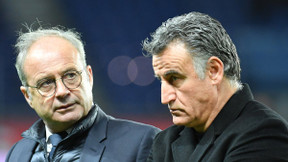 Advertisement
Advertisement
Having come very close to completing the arrival of Hakim Ziyech at the very end of the winter transfer window, PSG was finally the victim of an administrative problem invalidating the operation. A failure for the capital club, which was keen to see an attacking reinforcement land to replace Pablo Sarabia, but Christophe Galtier preferred to put this into perspective.
blow for the PSG ! The capital club experienced a transfer window winter rather hectic in the direction of departures with the sale of pablo Sarabia (Wolverhampton€5 million) as well as loans fromAyman Kari (FC Lorient) and of Keylor Navas (Nottingham Forest), but Christopher Galtier And Luis Fields did everything they could to attract a reinforcement in attack. Tracks Rayan Cherki (OL) And Malcolm (Zenit St. Petersburg) were first exploited, but it was above all the arrival on loan ofhakim ziyech that the PSG was about to conclude at the very end of transfer window. The deal was done, but chelsea sent the right documents too late, which therefore derailed the arrival of the Moroccan striker…
Mercato: PSG has already targeted a sale for next summer https://t.co/UFodbgR7X7 pic.twitter.com/B4gXob2jtJ

— 24hfootnews (@24hfootnews) February 3, 2023
" It's like that "
Asked at a press conference this Friday, Christopher Galtier reacted to this huge miss at the end of transfer window for the PSG, and the Ile-de-France coach prefers to put things into perspective: " No, I don't have a digestive problem. It's like that, we will do with the squad available, I have a quality squad. We knew that there was the possibility of bringing in a player, we knew the constraints. The club did their best. The young people are there and will exist in these match sequences. There are a lot of absentees but we are Paris Saint-Germain and those who are not there are replaced by a quality squad. ", estimated Galtier.
" No regrets "
He continues on the missed arrival ofhakim ziyech and the current depth of its workforce in PSG : " We have no regrets. We wanted to reduce the squad, to release some players who had been there for a while. There was the desire to renew the workforce. We were very close to having an additional player, we didn't have him and that's how it is ". The me pagerwinter cato is therefore definitely turned for the PSG.