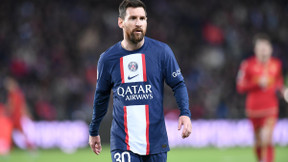 Advertisement
Advertisement
This Saturday, for the reception of Toulouse at the Parc des Princes, PSG will be deprived of Kylian Mbappé and Neymar. The two stars withdrew, leaving Lionel Messi alone on the attacking front. If the club of the capital begins to worry, the Argentine Federation reminds all the same that it can count on one of the best players on the planet.
Since the return of world CupTHE PSG faces some difficulties. The capital club is being undermined by some of its opponents. And things shouldn't work out, as the shock at the Bayern Munich in the Champions League is approaching (February 14). In effect, Kylian Mbappe And Sergio Ramos went out on injury against Montpellier last Wednesday. And the case of the 24-year-old striker worries.
'I love Leo', he foot-calls Messi https://t.co/x1HCLH3Udt pic.twitter.com/Y8rX8KDDEj

— 24hfootnews (@24hfootnews) February 3, 2023
3 weeks of absence for Mbappé, Neymar worried
After several examinations, the PSG announced his verdict. Kylian Mbappé will have to be rested for at least 3 weeks, and should therefore miss the round of 16 first leg of the Champions League against the Bayern Munich. Neymar's condition also challenges the PSG. Already fixed price for travel to Montpellierthe Brazilian will also not be in the game for the reception of Toulouse at the Parc des Princes. The 30-year-old star suffers from muscle fatigue. THE PSG therefore does not want to rush her return so that she can be 100% on February 14th.
"We are talking about Messi the extra-terrestrial"
Facing Toulouse, Lionel Messi will therefore be orphaned by his two attacking friends. Last season, the Argentinian only played once without Kylian Mbappe, and it was not very conclusive (1-1 draw against Lorient). Nevertheless, Nestor Fabbri believes that the PSG is still lucky to be able to count on the 2022 world champion. Messi without Neymar and Mbappe? I remind you that we are talking about Messi the extra-terrestrial, there, a player who has just confirmed at the World Cup that he was the best today on the planet. Whether he plays with or without Neymar and Mbappé, it doesn't change the fact that it's a chance for Paris to have him in their squad. And, even if the others are important, it still seems feasible to me to keep his first place in Ligue 1 with a player of this caliber "explained the former defender of the FC Nantesnow in charge of the development of women's football within the Argentine Federation, at the microphone of the Parisian. To see if Lionel Messi will get by alone, without Kylian Mbappe And Neymar this time.