Edin Dzeko, a match to go down in history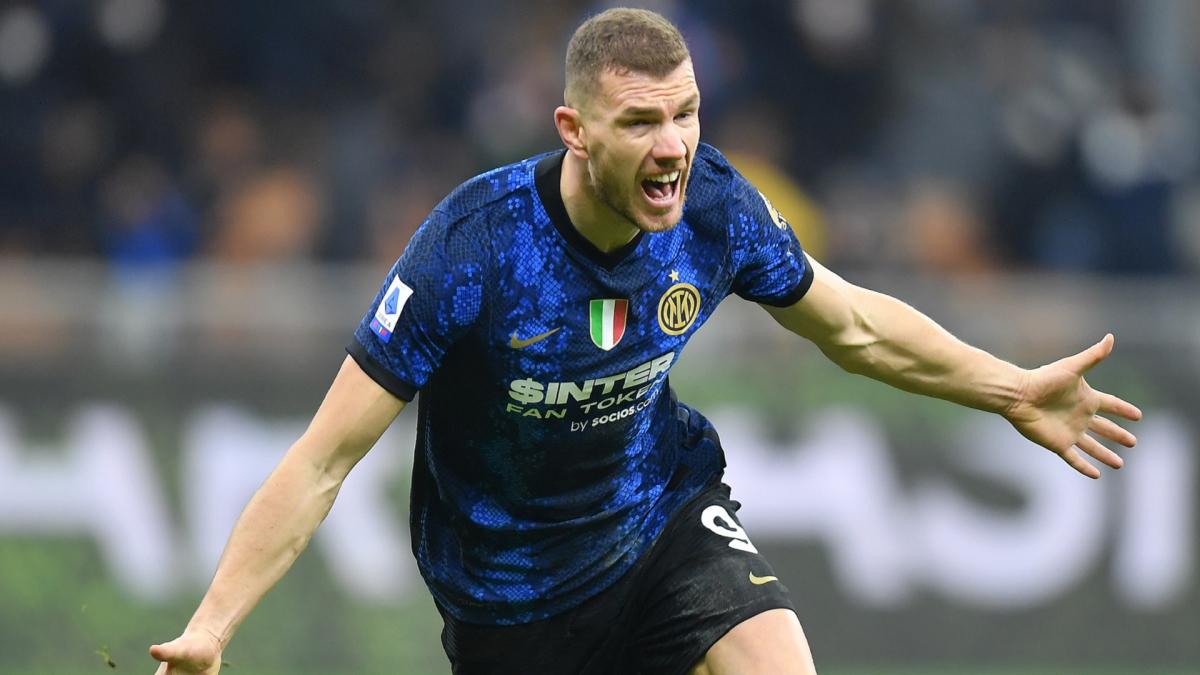 Advertisement
When the inevitable moment arrives to watch the retrospective of his career that began more than 20 years ago in the small Bosnian club FK Željezničar, Edin Džeko will not have to be ashamed, on the contrary. A child of Sarajevo fed to the sounds of bombardments and machine gun bullets during the Bosnian war (1992-1995), the slender attacker knew how to make his way into the elevator of football, despite being renowned for leaving many dreamers on the edge of the road. Rarely cited in the hackneyed debate of the best European strikers of his generation, Džeko nevertheless ticks all the boxes. At 37, the Bosnian is even preparing to play the first Champions League final of his career this Saturday (9:00 p.m.), with Inter Milan, against his former club Manchester City. The reward for a successful career on the national scene, less so on the continental scene: "Edin is a very great player who helps the team in every aspect. He brings so much and will continue to do so in our group. If it were up to me, I would renew his contract without hesitation.said his trainer Simone Inzaghi in this regard last November.
What's next after this ad
Džeko becomes the second oldest player to score in the semi-finals (37 years, 54 days) ⚽️#UCL pic.twitter.com/ZR1VcgR5YV

— UEFA Champions League (@ChampionsLeague) May 16, 2023
If his last season under the colors of AS Roma hinted at a loss of speed, "Bosanski Dijamant" (the Bosnian diamond, its nickname in the country) has indeed been able to awaken dormant resources among the Nerazzurri. Arrived in the summer of 2021 in Lombardy, Džeko quickly transformed into an essential element of Simone Inzaghi's eleven. Author of 13 goals in Serie A last season, the Bosnian fell in love with a natural technical affinity with Lautaro Martínez, who notably pushed AC Milan to its limits in its quest for the Scudetto (86 points against 84) . This season again, the duo continues to do its thing, especially on the continental scene where Benfica, in 1/4, and AC Milan, in 1/2, have recently paid the broken pots. Although today we can feel him sticking his tongue out and lacking lucidity more easily after the hour mark – he is often replaced by Romelu Lukaku – Džeko is (still) at the top of the ranking of Inter's top scorers in the competition this season with 4 achievements. By scoring against AC Milan, he was also invited to the table of players who managed to score in the C1 semi-finals in the jersey of two different clubs, joining a list of prestigious names where we find including Cristiano Ronaldo, Zinedine Zidane or Andriy Shevchenko.

sport bets
10€ offered with the code FM10 on Parions Sport en Ligne. Inter's victory earns you €37.5!

One of Europe's most consistent strikers for 15 years
But concretely, where to place the Bosnian on the chessboard of European attackers for 15 years? Among the selection criteria can be cited the prize list, regularity, longevity, the ability to respond to the call during major events, to sublimate outside of one's comfort zone, or to shine in selection. Suffice to say that the native of Sarajevo summons a little all these elements. Radiant in Wolfsburg, which he will have led to the title of German champion in 2009 partly thanks to his tandem with Grafite, stunning in Manchester City, where he will have been able to transform leftovers into a feast in the shadow of Sergio Agüero, in particular by scoring the goal of hope in the illustrious title match against QPR in 2012, seizing with AS Roma, which he will have towed to the semi-finals of the Champions League in 2018, changing elsewhere as executioner of Barça, Džeko succeeded everywhere. In addition, his 6th position in the ranking of the best European scorers of the last decade (136 goals) also testifies to the mark he left and continues to leave on the Old Continent. In February 2022, his former teammate at Roma, Radja Nainggolan, who had nevertheless frequented big names such as Romelu Lukaku, Dries Mertens, Mauro Icardi and Lautaro Martínez during his career, had also designated him as the best : "I prefer attackers who allow the whole team to play well, like Džeko. We were together for three years at Roma (2015-2018), and he's the best striker I've had the chance to play with."he said on the Twitch channel OCW Sports.
What's next after this ad
Only Cristiano Ronaldo (12) has scored more @ChampionsLeague goals after turning 35 than 🇧🇦 Edin Džeko 👊 pic.twitter.com/DNImZMq2CV

— UEFA EURO 2024 (@EURO2024) October 27, 2022
Although he is not the fastest or the most hard-hitting of the number 9s, his astonishing sense of goal, his clinical precision in heading, his skill with both feet or his heaviness with his back to goal make him a sure reference. at his post. On the other hand, his history with Bosnia-Herzegovina, a selection that is not used to playing leading roles on the continent, speaks for itself. Against France, Germany, Portugal, Belgium and even Italy, the captain of the Dragons has always found the net. Top scorer of his selection with 64 goals, Džeko also allowed this small Balkan state to participate in the first World Cup in its history in 2014, a performance still unsuspected fifteen years ago. "He is a very serious, ambitious boy who knows where he comes from. He has all the necessary qualities of a striker. He was top scorer in big leagues, he scored 50 goals in two seasons. It works very well for him. He is one of the best strikers in the world. If he can't play, we'll just play the draw because we have no chance of winning without him."said PSG legend and former Bosnian coach Safet Sušić before a qualifying match for Euro 2016. In January, Faruk Hadžibegić had given the cover:We have Džeko who plays in one of the biggest clubs in Europe, and every day I have to do duas (invocations in Islam) so that he doesn't get hurt", had indicated the current coach of the Dragons. Either way, the Inter Milan striker is set to grit his teeth as he leads Bosnia and Herzegovina to their first European Championship next summer, in Germany, for what could be one last dance. . Before that, another European quest awaits, but with Inter Milan, tonight.
🇧🇦 Clinical from Edin Džeko 🎯 pic.twitter.com/eKkRmGhr5T

— UEFA EURO 2024 (@EURO2024) May 16, 2023
Pub. THE
update the
Advertisement