Advertisement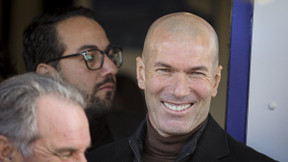 Advertisement
Advertisement
Advertisement
If Christophe Galtier were to be pushed out at the end of the season, Qatar would have a big dream for the next PSG coach: Zinedine Zidane. However, the French technician has also been announced at Real Madrid in recent weeks. Nevertheless, the Merengue would favor the track leading to Mauricio Pochettino, a former Parisian coach.
Despite his early elimination from the Champions League, Christophe Galtier is not yet in danger PSG. Le10Sport.com can confirm that the Parisian coach still has the confidence of his leaders. But the situation could well change by the end of the season. Qatar would always dream of Zinedine Zidane on the Paris bench. However, the name of the French technician is also mentioned on the side of the real Madrid these last weeks.
Zidane – PSG: Disaster, he wants to seal the dream of Qatar https://t.co/S9FIXV98jR pic.twitter.com/QSLF43ajYQ

— 24hfootnews (@24hfootnews) March 29, 2023
Pochettino at Real Madrid to replace Ancelotti?
Except that to ensure the succession of Carlo Ancelotti, the Madrid club could turn to other options. So, Report revealed that the Merengues were thinking of Mauricio Pochettino And Raúl to replace the Italian coach at the Casa Blanca. The Argentinian, ex-coach of PSGwould even be in pole position for the position.
The trend is confirmed, a boulevard opens for Zidane at PSG
And this Wednesday, AS confirmed the trend. The Spanish media in turn announced that Mauricio Pochettino was in the best position at the present time to succeed Carlo Ancelotti At real Madrid. fired from PSG last summer, he could thus offer a golden opportunity in Qatar for Zinedine Zidane. If the place at real Madrid is taken, Zidane could only have the PSG as an option to return to club service. Initially, he had made himself available for theFrench team. But the extension of Didier Deschamps ruined his plans. The old number 10 of Blues could then bounce back in the French capital, especially if the real Madrid choose someone else. To be continued…