Advertisement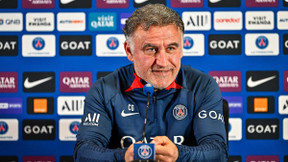 Advertisement
Advertisement
Advertisement
While Christophe Galtier could be thanked in the event of a disaster in Ligue 1, PSG would have already chosen his potential replacement. Indeed, Luis Enrique would be the priority of the capital club for the succession of his trainer. However, Qatar would be in the fight with Tottenham and Naples on this issue.
Arrived at PSG at the end of the last season, Christophe Galtier made a successful debut at Paris. Indeed, the capital club walked on water in the first part of the season, being undefeated. However, things took a turn for the worse after the World Cup. THE PSG having chained poor performances in 2023.
Mercato: A star is announced at PSG https://t.co/FvdKWoauqx pic.twitter.com/1fAjIqNHy1

— 24hfootnews (@24hfootnews) May 26, 2023
PSG approached the Luis Enrique clan
While the PSG hasn't been there for the past few months, Christophe Galtier could be sacrificed in the offseason. But, as 24hfootnews.com has revealed to you exclusively, the Parisian technician will remain in place next season, unless there is a disaster in League 1. And in this case, the PSG should trust Luis Enrico. As stated The Parisianthe former coach of FC Barcelona would be the priority of the red and blue direction for the post-Galtier. However, the PSG would be subject to heavy competition on this issue.
Tottenham and Naples pinch for Enrique
According to information fromIgnazio Genuardi, disclosed on his account Twitter this Thursday evening, PSG would have discussed with the entourage of Luis Enrico. Nevertheless, Tottenham And Naples would also be interested in the Spanish technician. And while Luis Enrique would claim a contract of around 10M€, excluding bonuses, the Spurs would be cooled, while the Azzurri would stay in the race.