Gor Manvelyan, the new offensive weapon of FC Nantes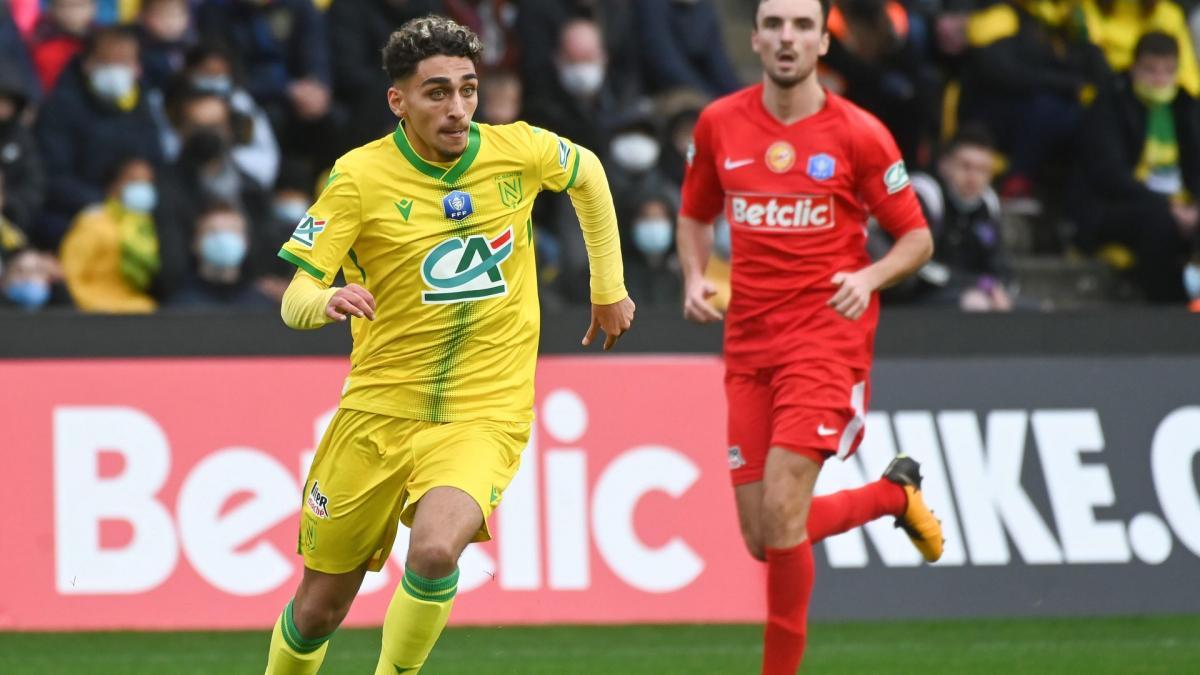 Advertisement
Randal Kolo Muani has left FC Nantes. Pure product of the Nantes formation, the native of Bondy exploded on the front of the attack in a rather unexpected way and spun in Frankfurt. Symbol of the return of Nantes-style training, already seen with Valentin Rongier or more recently for Quentin Merlin. But that's not all. In the south of the Armorican Massif, a new crack from La Jonelière is starting to show up and you are likely to hear about it this year. Her name ? Gor Manvelian.
If he played only one professional match last season in the Coupe de France against AS Vitré, Manvelyan is indeed promised a great future. This 20-year-old Franco-Armenian – spent very young at Saint-Lô and US Granville – was spotted very early by FC Nantes. Six years after his arrival on the banks of the Erdre, Manvelyan signed pro after having achieved an incredible U19 season in which he finished top scorer in the championship with 17 goals.
Gor Manvelyan intends to seize his chance!
One of his relatives told us more about the qualities of this player of Armenian origin, naturalized French in 2020 and holder of a baccalaureate with honors. "Gor is a technically skilled player, able to make the difference in one on one and who has a good vision of the game. With him the danger can come from everywhere. He is capable of delivering the last pass, but he is also very skilful in front of goal, as evidenced by his U19 season where he finished top scorer in the championship. He is right-handed, but also very skilful with the left.
Qualities widely appreciated by Antoine Kombouaré who called him ten times with the pro group last year, including this appearance in the Coupe de France. But this season the deal is different and despite the arrival of Mohamed Mostafa and Evan Guessan, Gor Manvelyan clearly has a card to play. And this skilful free kick taker intends to seize it. To start in the preparation matches. After 45 minutes against Guingamp then 25 minutes against Caen, this big fan of Cristiano Ronaldo, capable of playing number 10 as well as 9 and a half, played 18 minutes against Rennes.
Here we go again for a new season 🔥 @FCNantes pic.twitter.com/KO8wlfEr6q

—Gor Manvelyan (@ManvelyanGor) June 29, 2022
A good omen in a season that promises to be very long for FC Nantes between the Champions Trophy, Ligue 1, the Europa League and the Coupe de France. There is no doubt that with all these deadlines, Gor Manvelyan should benefit from a few minutes. "He didn't have a promise or anything. Anyway, if Gor wants to play he will have to prove that he has the level and seize his chance. He is determined to succeed and if it is with his training club, then what could be better?, has, moreover, reminded us, one of his relatives. It's all the harm we wish him.
Advertisement