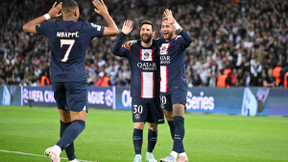 Advertisement
Advertisement
Former FC Barcelona player Andreu Fontas did not fail to thank his ex-teammate Lionel Messi during an interview with the Spanish newspaper Mundo Deportivo. The central defender returned to his years spent in Catalonia by evoking the memories he has of the sevenfold Ballon d'Or.
While he has still not extended with Paris Saint-Germain, Lionel Messi is at the center of all questions concerning its future. Many clubs are hoping to be able to sign the Argentine freely this summer, starting with the FC Barcelona and theInter-Miami (MLS).
F1: Big announcement for Hamilton, Verstappen will enrage https://t.co/eE4MSFpk6u pic.twitter.com/hTG1bXG5m7

— 24hfootnews (@24hfootnews) March 18, 2023
Messi in training, "it was incredible"
Passed by the Barca between 2009 and 2013, Andreu Fontas was asked about his relationship with Lionel Messi, and this, because he could find him at the UNITED STATES next season in the event of a transfer to the franchise of David Beckham at theInter-Miami : "It was incredible. It was really good. Everyone was very good, but he was even better. It was amazing to see what he was doing even in training. He is a born competitor, a winner. He always won even if his team was below. He took the ball and scored for his team to win. He comes from another planet".
What about Messi's future?
For now Lionel Messi is still far fromInter-Miami, since Doha is working to extend the contract of the Pulga At PSG an additional year, as 24hfootnews.com revealed to you exclusively. If discussions have been underway for several weeks with the capital club, the clan Messi would also have met the various clubs interested in him. In addition to the American franchise of David BeckhamTHE heart rate Barcelona and the Saudi club ofAl Hilal are the main competitors of PSG on the file.