Advertisement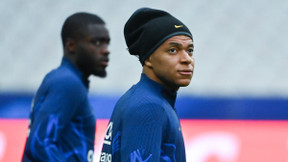 Advertisement
Advertisement
Advertisement
Very successful under the colors of Montpellier, 11th in Ligue 1, Elye Wahi floats in the workforce of the Hérault club. The 20-year-old striker, obsessed with goals like his idol Didier Drogba, has also achieved the great performance of equaling a Kylian Mbappé record. If he stands out as one of the most promising hopes of French football, Elye Wahi is not cold in his eyes.
Author of 12 goals in 24 appearances, Elye Wahi is by far the top scorer MHSC this season. This gives him the opportunity to be regularly called upon French team hopes by Sylvain Ripoll. A few weeks ago, he even became the second player in League 1 to reach the bar of 20 goals before having blown out its 20 candles, after a certain Kylian Mbappé.
Threatened by OM, PSG makes a major announcement https://t.co/GJtFmYy149 pic.twitter.com/SnTyj9JVJA

— 24hfootnews (@24hfootnews) March 31, 2023
"They talk a lot about me"
Despite his excellent performance, Elye Wahi prefers to keep a cool head. Asked by Soccer 365the striker of Montpellier said that even though he felt the excitement around him, he remained focused on his goals: "Yes… It's true that at the moment people talk a lot about me. I have rewarding stats, but I'm not focused on that. I continue to work".
Elye Wahi does not want to ignite
The young French striker is also well aware of his strengths and shortcomings, which pushes him to always work harder: "My strong point, I would say, is finishing. I think it doesn't take much for me to put it in the bottom. Afterwards, where I have to improve the most is with my back to the game. In my training, I was used to playing on the sides and less in the axis, so that's where I have to improve. » asserted Elye Wahi For Soccer365.