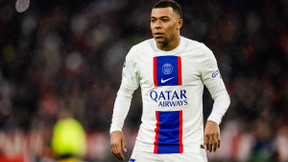 Advertisement
Advertisement
Last year, Simon Castaldi made it clear that his current girlfriend had been approached by Kylian Mbappé. Asked about the subject, Adixia confirmed, revealing that she had never responded to the advances of the PSG superstar, and this, because she is completely indifferent to footballers.
Last year, Simon Castaldi made a juicy revelation about Kylian Mbappe. In an interview given to Jordan Deluxe, the son of Benjamin Castaldi made it clear that his then-girlfriend, Adixia, had been picked up by Kylian Mbappe.
PSG: Messi endangers the QSI project, the crazy announcement https://t.co/2nj7e5I37c pic.twitter.com/NLbWGPwi6Y

— 24hfootnews (@24hfootnews) March 18, 2023
Adixia approached by Kylian Mbappé?
"There are DMs (messages) from soccer players. I can't say the names but there are big football stars, French world champions. There are two PSG players (Kylian Mbappé and Presnel Kimpembe?), big players and more »asserted Simon Castaldi.
"Do you know that Mbappé DMed me?"
Asked by Vivian during a live on tik tok, Adixia confirmed the words of his ex Simon Castaldi. "Kylian Mbappe? You know he DMed me? My mother's life, he DM me. I'm the type not to lie. There are people who say I'm lying, but no, I'm not lying, he really DM me. I don't like football players, so I don't give a fuck."revealed the candidate of reality TV, who would never have answered Kylian Mbappein comments reported by Pure Break.