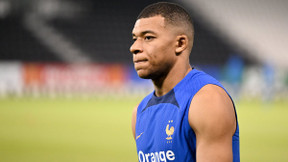 Advertisement
Advertisement
It is a sequence that certainly still haunts many fans of the France team. We play the 120th minute of the World Cup final, 3-3 between France and Argentina, the ball passes over the Argentine defense to allow Randal Kolo Muani to present himself alone against Emiliano Martinez. Everyone sees the goal and the French victory but the Argentinian goalkeeper pulls out a magnificent save. The principal concerned could even have served Mbappé.
"I scored a goal but Martinez stopped it."If this action had been carried out by Pele, here is what the King could have said after this terrible shot stopped which deprived France of a second world title in a row. On beIN Sports, Randal Kolo Muani, the author of this stopped strike, returned to this action which has haunted him since and which will haunt him all his life.
News of the day pic.twitter.com/wC02F8M7sg

— 24hfootnews (@24hfootnews) February 2, 2023
"I know it by heart"
The player of Eintracht Frankfurt, Randal Kolo Muani was one of the revelations of this World 2022. And he could even have been the hero if he had scored his goal at the very end of the final: " I still watch it, I know it by heart. In my head, I said to myself: 'Randal, you have to shoot'. I tried to shoot at the first post, the goalkeeper made a very good save and took it out well. I lost this duel. After, I think there were other solutions, I could lob him, I could find Kylian because he was also on a good angle » he explains on beIN Sports.
"I don't see Kylian"
If it is very difficult to judge Randal Kolo Muani, since he has nothing to reproach himself for this action, the former Nantes player cannot help but redo this moment in his head, explaining why he did not serve Kylian Mbappé: " But on the action, I don't see it, because the ball comes like that. And me, I go straight like that and I don't see Kylian. It's after, when you watch the video that you see that there are other possibilities but it's too late, you can't do anything anymore. I still have it in my throat and I will have it for life. »