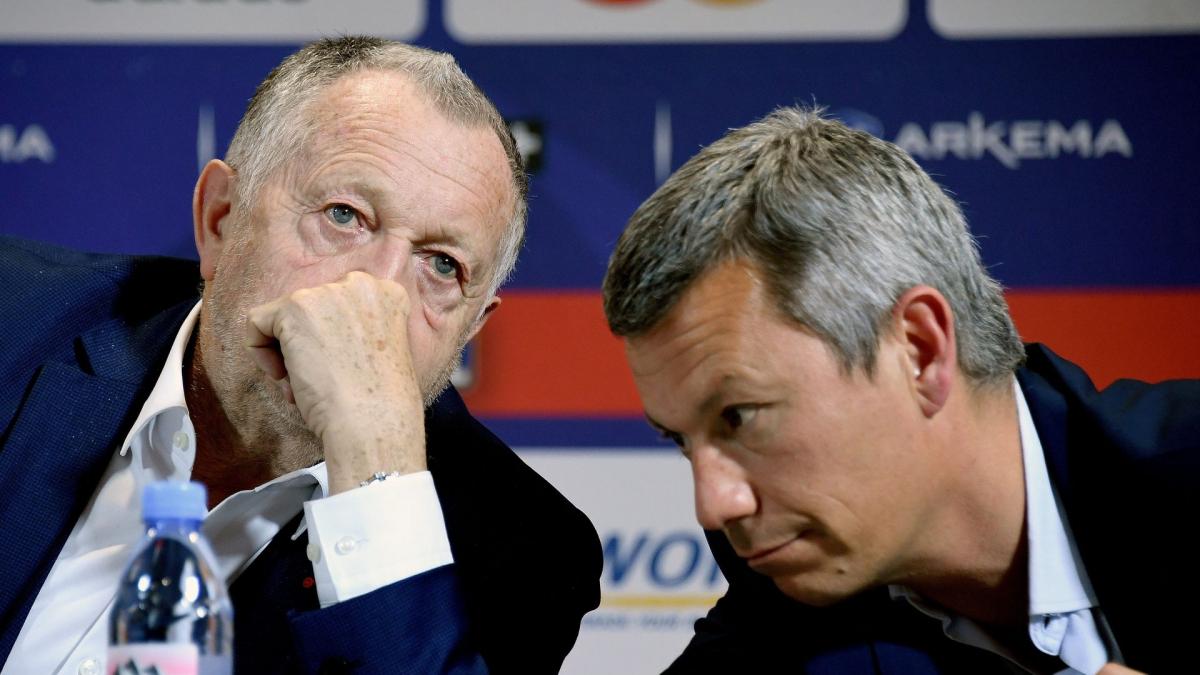 Advertisement
Advertisement
What's next after this ad
Eighth last season and therefore deprived of the European Cup, Olympique Lyonnais had sworn to want to catch up this year. To do this, Les Gones relied, among other things, on the remarkable returns of Alexandre Lacazette and Corentin Tolisso, as well as on a lighter schedule than its competitors in Europe. Except that nothing went as planned. Peter Bosz was dismissed during the season and the Laurent Blanc effect is still not felt. Result: OL are today in a poor tenth place in the standings and are 16 points behind third. A complicated sporting situation to which was added a strongly questioned winter transfer window. Enough to provoke the anger of Rhone supporters. Present at a press conference this Friday as part of the official presentation of Dejan Lovren, Amin Sarr and Jeffinho, Jean-Michel Aulas and Vincent Ponsot spoke. Starting with the historic boss of OL.
"Since this year, we have embarked on a three-year cycle, I take responsibility for it, to get back to where we should be and find the places that allow access to Europe. The transfer window was a transfer window that took place in several stages. Everything is done at the same time with a quartet: Vincent (Ponsot), Bruno Cheyrou, Laurent Blanc and then myself. Honor all honor, the first request that was made by the coach was to find an experienced central defender so when we had the opportunity to find Dejan (Lovren), we immediately discussed. The boss basically wanted a centre-back and when Dejan was introduced to him, he didn't hesitate for a second. Subsequently, he realized that he had additional needs. First a 6. We needed two strikers with certain qualities. Bruno had made a certain number of contacts which were on the verge of success when we were offered to leave on a Brazilian solution with João (Gomes), but he had already given his agreement to an English club. Contrary to what has been said, we were on time. Bruno even went to Brazil to chat with the player. (…) It is a transfer window which is the one we had wished for with one player close: number 6. A request which came later. If in some cases the alliance with Brazil has made it possible to carry out positive operations, there it made others wait. We did our best"he said, before reaffirming that he did not intend to let his OL go adrift.
To read
How the OL transfer window turned into a fiasco!
OL changed their plans during the transfer window
"You also need to have a little memory. What we are talking about is a tenth place which is not satisfactory. We continue to respect the bases and values ​​that have been developed in the past. It's also true that Liverpool at the moment are ninth. It happens in the cycle of a club like ours to have a bad performance. The emergence of social networks means that things are said that are not acceptable. We often have a little hindsight. We do everything to turn things around. Sometimes, you have to know how to accept a certain number of difficulties to revive yourself, and not accentuate the difficulties. I'm sad to hear a number of things, not about me, but when I see things being said that are wrong about Vincent and Bruno. I hold the bar very tight. I have the certainty of doing a good job, of being able to revive OL. All the bigger ones have empty passages. For us, it has to be as short a slump as possible. »
What's next after this ad
A few moments later, JMA entrusted Vincent Ponsot with going back in detail to the scenario for this winter transfer window. Explain why OL ultimately did not hire a defensive midfielder when Laurent Blanc had requested one. And according to Ponsot, the reason is quite simple. "The initial target of the transfer window was a central defender, because we know that changing part of the workforce in January is never easy. You can't change everything all at once. The order we had in November is a central defender. He had to arrive quickly and Dejan arrived on January 1st. Afterwards, there were the resumption matches, we said to ourselves that it was not possible to continue like this. So the order, which dates from January 10, was a sentry and a significant regeneration of the workforce. Then there was the episode of Karl Toko against Strasbourg. It's not that we didn't anticipate, it's that we changed our plans in mid-January to create an electric shock. Overall, I think we succeeded. There is a point, it is the defensive midfielder. There are reasons. We have reached agreements with the players and the clubs, but when it comes time to leave, the players are not pawns, there are families. When it comes to making the choice of departure, some say it's not the right time. We have not succeeded in concretizing the leads identified. You also have to be careful on the last day to take on a player you didn't necessarily want. But we haven't had a number six order in three months. » It remains to be seen whether these explanations will be enough to calm the Lyon supporters.
Pub. THE
update the