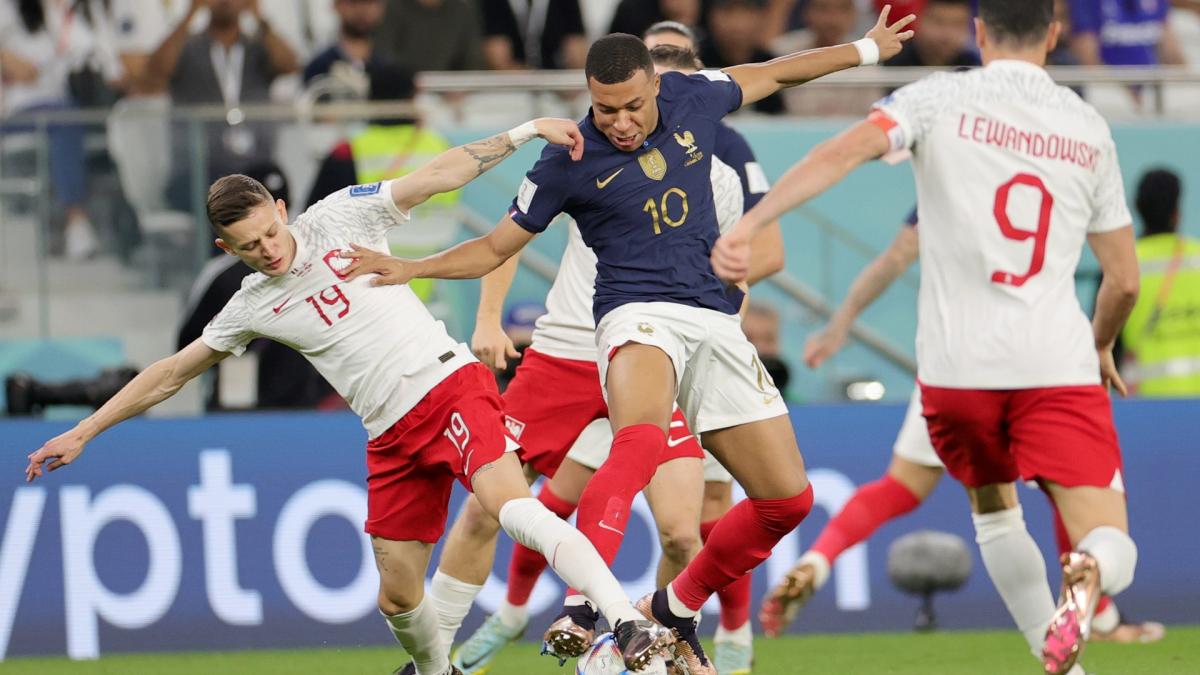 Advertisement
Advertisement
What if Kylian Mbappé was (again) entering a new dimension? World champion in Russia for his first World Cup, where he revealed himself to the general public, the Paris Saint-Germain striker was expected for his second World Cup in 2022, after the failure of Euro 2021, where he had been decried for his missed penalty. But the 23-year-old striker is making everyone agree in Qatar. In the absence of Karim Benzema, he behaves like the technical leader of the Blues. Already decisive against Australia and Denmark, he repeated this in the round of 16 against Poland (3-1).
Author of a new double and a decisive pass, he was involved in all the French goals, even if everything was not perfect for him. It is also his captain, Hugo Lloris, who delivered the best analysis. "Kylian, we say it and we repeat it, it's difficult to find your limits. We saw him a little less in the second period, but he scored two extraordinary goals. This is a major asset for our team. We raise the level together at each stage and we know that we can count on him.explained the goalkeeper of the Blues, at the microphone of bein Sportswho was not so surprised by the good form of his teammate, involved in the last seven goals of the Blues, in the World Cup.
his impressed teammates
So, is this enough to establish itself as the leader of the Blues? Didier Deschamps, in any case, praised his performance. "We still have this ability by modifying a few small placements at half-time, we found a lot more binder and after that it's Kylian with the ability he has to solve many problems, good for us"explained the coach of the Blues, on TF1and this was confirmed by Jules Koundé. "Obviously he is a special player. He was decisive again today with two very good goals and important goals, so we are very happy to have him in the team.added the tricolor defender.
The French team seems in any case totally behind Kylian Mbappé, who showed a great deal with Giroud and Dembélé, his attacking partners. And he also continues to impress his partners. "He doesn't surprise me in the sense that I know his potential even though he still has room for improvement. Afterwards, it's incredible, it's true, the goals he scores, the positions, the angles he manages to find. It's great, it's what we expect of him. We work behind and we wait for him to do the job in front.recognized Adrien Rabiot, in the mixed zone.
"I built my season on this competition"
But nothing has been done for the moment and we will have to repeat this again against England or Senegal, the two potential opponents in the quarter-finals. And Mbappé knows it: "Of course this World Cup is an obsession, it's the competition of my dreams, I'm lucky to play it, I built my season on this competition physically and mentally. I wanted to arrive ready and for the moment it is going well, but we are still far from the objective that we have set and that I have set myself, which is to win.assured Mbappé, at a press conference.