Lille hits Auxerre, Lens wins in pain despite Florian Sotoca's hat-trick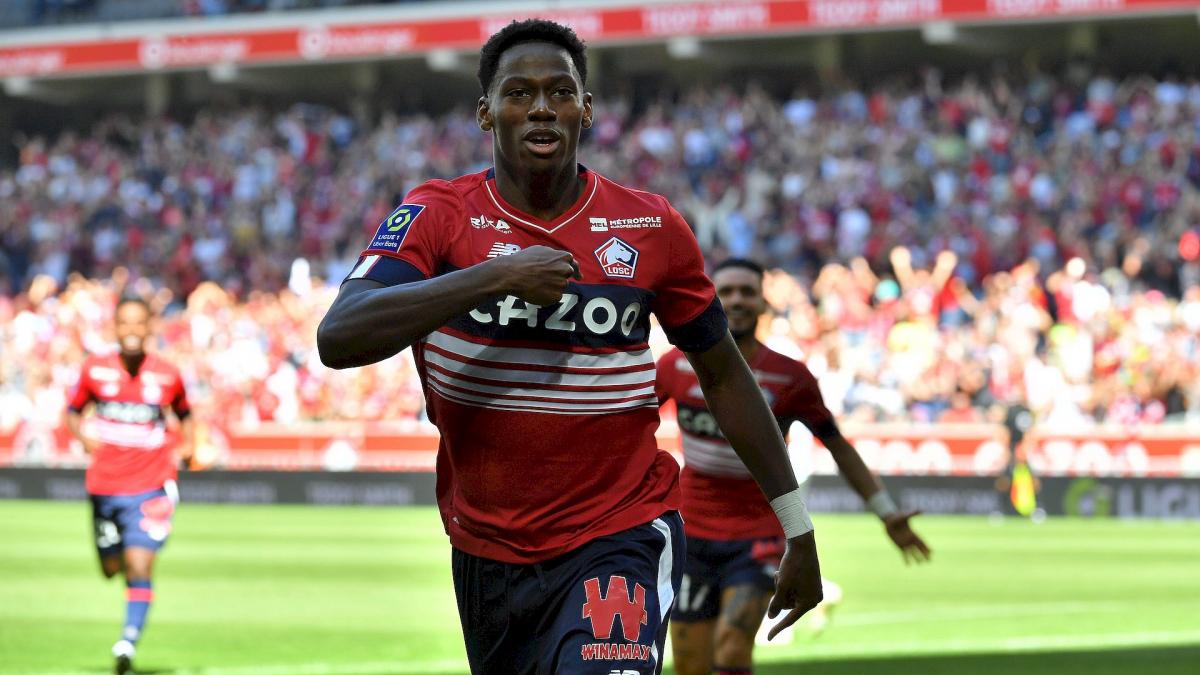 Advertisement
Returning to Ligue 1 after leaving it in 2012, AJ Auxerre moved to the lawn of Lille where the new coach Paulo Fonseca made his debut. The Mastiffs which also included Alexsandro, Akim Zedadka, Rémy Cabella and Mohamed Bayo started strong despite the many upheavals. However, the Mastiffs did not take long to shine. Indeed, it only took 38 seconds for Benjamin André to find the fault on a service from Jonathan David (1st). Passer then scorer, the Canadian offered the break in stride to the Dogues (3rd) allowing Lille to become the first team to score 2 goals in 3 minutes since Nantes against Toulouse on December 11, 1993. In great shape, Lille dictated its law against to a weak promoted already outdated.
Jonathan David offers himself a double, Florian Sotoca sees triple
Jonathan David (26th) and Rémy Cabella (33rd) insisted on scoring the third goal. Finally, he intervened under the impulse of the two men since Rémy Cabella allowed Jonathan David to afford a double (3-0, 39th). Angel Gomes in turn tested Benoît Costil, whose afternoon was to remind him of the nightmares he experienced in Bordeaux last year (43rd). In the second half, Lille managed their score more, but continued their domination. Jonathan David stumbled (63rd), but not Akim Zedadka who broke Auxerre (4-0, 64th). Certainly Gaëtan Charbonnier (4-1, 68th) reduced the gap, but that was not enough. With a 4-1 victory, Lille started its season perfectly.
The beautiful day in the North of France also affected the rival of Racing Club de Lens which received Stade Brestois 29. Ambitious this season again, the Sang et Or started strong with an incursion from Florian Sotoca (11th) then Loïs Openda passed close of the goal (18th). Finally, Florian Sotoca found the fault for the Northerners by taking advantage of a good job with Przemysław Frankowski (1-0, 28th). Then Lens obtained a penalty, but Florian Sotoca missed his gesture and Marco Bizot pushed back (33rd). Despite a new opportunity from Loïs Openda (41st), Lens took the lead at the break. Continuing to push, the Artesians finally doubled the bet via Florian Sotoca (2-0, 62nd) then the latter offered himself a sublime hat-trick (3-0, 65th). Haris Belkebla reduced the gap for the Bretons in stride (3-1, 66th). Brest regained confidence and obtained a penalty, but it was pushed back by Brice Samba in front of Romain Del Castillo (80th). Withdrawn following illicit anticipation by Facundo Medina, the second penalty was well converted by Romain Del Castillo (3-2, 82nd). Was scared to the end, Lens won 3-2 and started its season well against Brest.
Montpellier can thank Teji Savanier
Ending the season badly and losing many executives, Angers received a team from Nantes who were coming out of a 4-0 defeat against PSG in the Trophée des Champions. And it was felt since the locals dominated the Canaries. Certainly Moses Simon tested Paul Bernardoni first (2nd), but Pierrick Capelle (3rd) then Andrei Girotto inadvertently pushed Alban Lafont to the parade. On a big day, the doorman won a duel with Adrien Hunou (21st) while Loïs Diony came close to beating him (36th). Still decisive against Azzedine Ounahi (45th +1), the doorman disgusted the Angevins. In the second half, Azzedine Ounahi again missed the boat (50th) then Nantes took control of the debates. However, Paul Bernardoni disgusted the attackers (59th and 69th). Alban Lafont was again in demand (75th and 83rd), but was incredible. Thanks to its goalkeeper, Nantes snatches a draw (0-0) on the lawn of Angers.
We couldn't dream of anything better for this Montpellier – Troyes than an explosive start to the match. Quickly in the lead thanks to Théo Sainte-Luce well served by Faitout Maouassa (1-0, 3rd). Obtaining a penalty for a foul on Yoann Salmier (11th), Troyes equalized thanks to his captain Florian Tardieu (1-1, 12th). Montpellier responded via Téji Savanier (2-1, 15th) before cracking on a goal from Mama Baldé well served by Andreas Bruus (2-2, 17th). Lively and balanced, this meeting was worthy of a boxing match. Mama Baldé (45th +2) and Renaut Ripart (45th +4) for Troyes gave the last hooks of the first act with dangerous shots. The second period was less animated even if Montpellier regained some of the hair of the beast. This led to a sublime goal from Téji Savanier from the edge of the area (3-2, 81st). Montpellier starts with a nice 3-2 victory and Troyes can have regrets.
The afternoon matches
Lille OSC 4-1 AJ Auxerre: Benjamin André (1st), Jonathan David (3rd and 39th) and Akim Zedadka (64th) for Lille; Gaëtan Charbonnier (68th) for Auxerre

RC Lens 3-2 Stade Brestois 29: Florian Sotoca (28th, 62nd and 65th) for Lens; Haris Belkebla (66th) and Romain Del Castillo (82nd) ​​for Brest

Angers SCO 0-0 FC Nantes:

Montpellier HSC 3-2 ES Troyes AC: Théo Sainte-Luce (3rd) and Téji Savanier (15th and 81st) for Montpellier; Florian Tardieu (12th, sp) and Mama Baldé (17th) for Troyes
Advertisement