Advertisement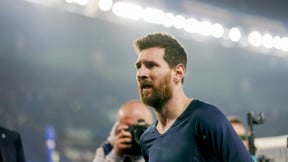 Advertisement
Advertisement
Advertisement
While PSG hosts Olympique Lyonnais this Sunday at the end of the 29th day of Ligue 1, the future of the trio of Parisian attacking stars is not assured for next season. If Kylian Mbappé is indeed the figurehead of this Parisian project, Neymar worries about his big injury, while the future of Lionel Messi seems destined for a return to FC Barcelona. A soap opera that could be long-lasting…
Lionel Messi will he stay in Paris next season? If on February 18, 10sport.com revealed to you exclusively that the PSG wanted to extend the Argentinian's contract, the rumors of a possible return of the latter to Catalan lands have since gained momentum. To the point where the statements on this subject are multiplying, whether from the players of the club Blaugrana themselves, or the coach and former teammate of the Pulga, Xavi.
Towards a big battle for the future of Lionel Messi
In recent days, the interest of Barca for its former glory is now being felt, and the Catalan leaders no longer seem to be hiding. But the PSG has not given up on extending his number 30, with whom the Parisian club had a verbal agreement for a one-year extension last December. The Argentinian has not yet made a decision on his future.
PSG: A Cristiano Ronaldo coup for Mbappé? https://t.co/p6TAWMQNMK pic.twitter.com/LUmUopCjzh

— 24hfootnews (@24hfootnews) April 1, 2023
A long Messi soap opera is approaching
According to the journalist TyC Sports, Gaston Edulthe battle is likely to be tough between the two clubs regarding Lionel Messi. Moreover, the latter affirms that despite permanent contacts between Xavi And Messi, Barcelona still do not know if this operation will be feasible. Either way, this case is here to stay…