Advertisement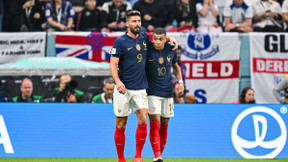 Advertisement
Advertisement
Advertisement
During the World Cup, Olivier Giroud became the top scorer in the history of the French team, breaking Thierry Henry's record. But until when will the AC Milan player remain so? An alien named Kylian Mbappé arrives in the ball just behind. Therefore, Giroud intends to complicate the task a little for the new captain of the Blues.
With 53 goals on the clock, Olivier Giroud is now the top scorer in the history of theFrench team. Having decided to continue the adventure with the Blues, the tricolor number 9 will therefore be able to further increase his total a little, but at the same time, Kylian Mbappé is also panicking the counters. At 24, the crack of Bondy already has 38 goals with theFrench team and the record could therefore quickly fall…
"Why Mbappé did not play with Algeria?", He lets loose on this sensitive issue https://t.co/P41rHpDM2P pic.twitter.com/kZaMxzCZxd

— 24hfootnews (@24hfootnews) March 29, 2023
Mbappé delayed by Giroud?
But Olivier Giroud wants to pose some problems to Kylian Mbappe for this record in French team. On the occasion of a video on the channel Youtube of the FFFthe striker of the Blues dropped: " My objectives in the France team? Score as many goals as possible to ensure that Kylian does not join me in the scoring charts in one or two years ".
"He will break all records"
" He will break all records, but my goal is to still have a lot of fun in this team. That's why I decided to continue. The objective is also to play the Euro and to win this Euro because when you start a competition it is to go to the end and it is the trophy that I miss ", has followed Giroud.