Advertisement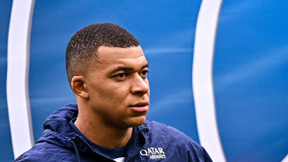 Advertisement
Advertisement
Advertisement
PSG would again be in danger in the Kylian Mbappé file. The 24-year-old would have made his departure wishes official to his close entourage. Disappointed by the attitude of his leaders, the French player would like to join Real Madrid. But for that to happen this summer, the star is going to have to go meet her superiors.
PSG no longer risk anything this season. Barring an improbable disaster, the Parisian club should win the eleventh French championship title in its history. A title, which the club refuses to devalue. But that should not be enough to reassure Mbappé, eager to win a much more prestigious trophy: the Champions League. Again, the PSG fell in the round of 16. A disappointment for the club, but also for the 2018 world champion.
Mbappé – PSG: A drama is announced! https://t.co/AOq9usImCs pic.twitter.com/X5z8JR8Bqo

— 24hfootnews (@24hfootnews) May 26, 2023
Mbappé would like to slam the door
According to information fromOK Diario, Mbappe believes that the PSG does not have the level to fight for victory in Champions League. To change their minds, the Parisian club will have to hit hard during the next summer transfer window. But for the moment, doubts are taking more and more space in the mind of the player, who would regret his extension. According to the Spanish media, his departure to the Real Madrid ris topical. From this summer? According OK Diarioit is not impossible, provided that Mbappe do what is necessary behind the scenes. This necessarily requires a meeting with its leaders.
Real Madrid sets its conditions
" The French player must speak to the Emir of Qatar, owner of PSG, and tell him that he wants to leave. He must have this courage, which he never had. He knows that the whole PSG will fall on him and call him a traitor, he has to go through it. If he wants to come to Real Madrid, whether it's this summer for 200 million or next year for free, he will have to face the Emir and say: 'I'm leaving'. They will pressure him to renew until 2025, he must refuse » blurted from his side Tomas González Martinjournalist for El Debate. Mbappe knows what he has to do.