Advertisement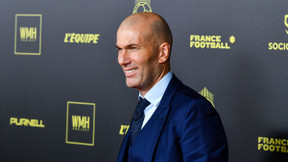 Advertisement
Advertisement
Advertisement
Zinedine Zidane's return to business could take place in this year 2023. After Real Madrid, Juventus for the 98 world champion? This would be a possibility that would particularly appeal to the Old Lady. Explanations.
Zinedine Zidane has been inactive since May 2021, i.e. the time of his departure from Real Madrid. Last June, for The Team, the 98 world champion admitted that his goal was to take the reins of the France team. At the time, the contract of Didier Deschamps ended in December 2022. But due to the course of the Blues at the World Cup in Qatar, the coach was extended until June 2026. Enough to force Zinedine Zidane to review his plans for his big comeback.
Zidane thinks of Juventus…
The return… it would be for this year for Zinedine Zidane ! But to go where? THE PSG once again does not seem to be in the plans of Zidaneunlike the Juventus. RMC Sports revealed last month that after the Real Madrid twice, Zinedine Zidane would be ready to make his grand return to one of his former clubs: the Juventus. And it would seem that this desire is shared by the Old lady.
Zidane – PSG: Qatar is preparing a madness! https://t.co/YeK17PbNSV pic.twitter.com/2ZE6dG9uv1

— 24hfootnews (@24hfootnews) May 26, 2023
…and it's mutual!
At least that is the information provided by Foot Mercato these last hours. According to the media, the Juventus would be ready to rebuild with his former playmaker, spent at the club as a player from 1996 to 2001 before flying to the Real Madrid. Besides, FM further asserts that Zidane would have refused a golden bridge offered by Al–Nasrclub of Cristiano Ronaldo, for the next two seasons. The luck of the Juventus for the Ballon d'or 98? Time will tell, but in the meantime, this option seems to be the most viable for Zinedine Zidane…