Advertisement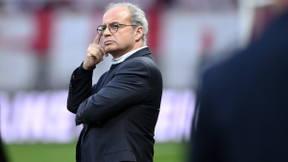 Advertisement
Advertisement
Advertisement
Luis Campos is working to strengthen the PSG workforce for next season. All lines should be reinforced. In terms of defense, Milan Skriniar should except disaster land in the capital. The Parisian football adviser still wants another axial to be recruited. An agreement in principle was even mentioned with Lucas Hernandez, but the latest news there would be nothing.
It is announced, the PSG wishes to change its strategy regarding its project. If already last year Nasser Al-Khelaifi had announced that they wanted less bling, it could be even more telling next season. It's simple Kylian Mbappe will be the cornerstone of the team. His two friends of the attack, Lionel Messi And Neymar should therefore pack their bags. It will be easy for the Argentinian who is coming to the end of his contract, but less so for the Brazilian who, as 24hfootnews.com revealed to you, has a contract until 2027 at Paris.
French players around Mbappé
In addition to building a team around the 2018 world champion, the PSG wants to include more French players in the squad, so that a certain fan base can be found more in the club. Randal Kolo Muani who is now a frame of theFrench team with the native of Bondy could also join him at Paris. But it will be expensive and competition is fierce on this issue. For the defense also the club of the capital wishes to strengthen and it would have targeted another Frenchman.
Neymar – PSG: Terrible news, the transfer window is relaunched https://t.co/6KuCV7ylzk pic.twitter.com/vpSpZK5AG5

— 24hfootnews (@24hfootnews) May 26, 2023
Lucas Hernandez is in the sights of PSG
He is the central defender of Bayern Munich Lucas Hernández which pleases a lot Luis Campos, who loves its versatility. The French press even announced an agreement in principle between the former player of theAtletico de Madrid and the PSG. But according to the German press and the newspaper Picturethere would be no agreement between the 27-year-old and Paris.