Mercato: Like Mbappé, a PSG star dreams of Real Madrid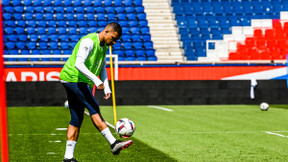 Advertisement
Yet announced in England on the side of Chelsea and Manchester United in particular, Achraf Hakimi would have a completely different objective in mind: to return to Real Madrid to finally impose himself there. A dream that he would therefore share with Kylian Mbappé.
It is certainly an open secret in view of the constant rumors for several years. But Kylian Mbappe dreams of wearing the merengue tunic of Real Madrid at some point in his career. Last summer, the French world champion missed his chance by signing a contract extension at PSG.
Already a departure for Hakimi?
Teammate of Mbappe in Paris, Ashraf Hakimi knew the real Madrid where it was formed before exploding at Borussia Dortmund on loan then atInter where the real Madrid had sold it in 2020. Within one season, Hakimi had convinced PSG to invest around €70m in 2021 in order to secure his services.
PSG drops €60m on the transfer window, the new recruit arrives https://t.co/Sxl7yWi8Gl pic.twitter.com/wJsBvb24VJ

— 24hfootnews (@24hfootnews) May 26, 2023
Hakimi would like to return to Real Madrid
The English press reports interest from chelsea and of Manchester United For Ashraf Hakimi on the sidelines of the next transfer window. However, the journalist Santi Aouna of Foot Mercato entrusted to Madrid Xtra that the main interested party would dream of returning to the Real Madrid. The decor is planted.
Advertisement