Advertisement
Football – Mercato – OM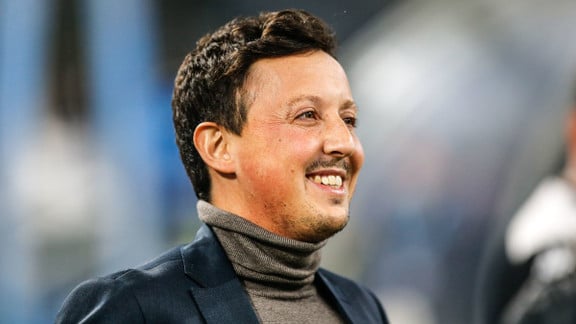 Accompanied by his sporting director Javier Ribalta, the president of Olympique has multiplied the meetings in recent days, since he has been seen in the company of representatives of several Serie A clubs. This is the case with Torino who could unlock some sales, but also with AS Roma, with excellent relations that link Pablo Longoria and Tiago Pinto.
We are not changing the recipe. Since joining the club, Pablo Longoria has often looked to Serie A to bolster theOlympic Marseille. This was the case with Pol Lirola and Arkadiusz Milikbut even more recently with Paul Lopez or Cengiz Under, who have become strong elements of Jorge Sampaoli's system this season. The Italian sector seems to have once again been at the center of the summer transfer window ofOMsince Longoria has been seen in the company of several Serie A club leaders in recent days and hours. And this time it's not just about arrivals, since it could also place some undesirables on the other side of the Alps…
24hfootnews – OM: This astonishing revelation about Frank McCourt https://t.co/J8R3PyySoY pic.twitter.com/AvHwnnA1Mz

— 24hfootnews (@24hfootnews) June 23, 2022
Torino could unlock two departures
This is the case of Luis Henrique, whose departure now seems to be a matter of days. According to information from The Gazzetta dello Sport everything would be closed for the loan of the Brazilian, whose purchase option should amount to 6M€. He is not the only player of theOM who could play in the Turin club next season, since La Stampa assures that another name would have been made during discussions with pablo Longoria. It would be that of Duje Caleta-Car, whose contract with theOM ends in a year and who seems to be one of the main candidates to leave.
New deals in preparation with AS Roma
The warm front on arrivals would mainly concern theAS Roma. After completing the arrivals of Cengiz Under and Paul Lopez just a year ago, Pablo Longoria would like to complete other operations with his friend Tiago Pinto, Roman sports director. Il Corriere dello Sport and Tuttosport indeed speak of very advanced discussions for Jordan Veretout, but also for Justin Kluivert, with an offer of 10M€ which is even mentioned for the latter. Calciomercato.com speaks on its side of another track with Carles Perezwho has played very little Rome this season and whose versatility would be highly appreciated by theOM.
Related articles
24hfootnews – OM: Longoria thinks of a former Barça star
24hfootnews – PSG: A big departure from Campos unblocked by … Angel Di Maria?