Advertisement
Football – Mercato – PSG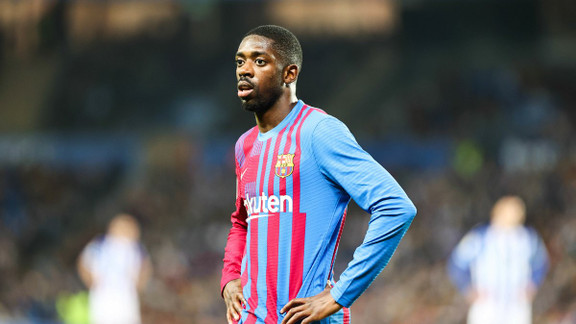 At the end of the contract on June 30 with FC Barcelona, ​​Ousmane Dembélé would have alarmed the PSG of Luis Campos. In order not to see his French striker be transferred freely and free of charge to Paris – or elsewhere – Xavi would have decided to make a last attempt to extend it. Indeed, the Barça coach would plan to meet his number 7 on his return from vacation.
While his contract will expire on June 30, Ousmane Dembélé will leave the FC Barcelona of Xavi freely and free of charge this summer if it does not extend by then. Aware of the situation of the French striker, the PSG and other European teams would be on the lookout, determined to complete an XXL blow at 0€ with him. On his side, Xavi would not have surrendered and would intend to try one last time to find a solution to extend Ousmane Dembélé's lease.
24hfootnews – PSG: The transfer of Di Maria already completed? The response of his clan! https://t.co/W8lQCidzMT pic.twitter.com/yAkJBfl1PE

— 24hfootnews (@24hfootnews) June 26, 2022
A final meeting between Xavi and Ousmane Dembélé this week?
According to information from Sport.es, Ousmane Dembele should be back from vacation this week. Thereby, Xavi should take the opportunity to meet him at Barcelona, after talking to him on the phone several times in recent weeks. While he would like at all costs to keep Ousmane Dembele in its workforce, the coach of the Barca would have a major role to play in this matter. To succeed in its mission to extend its number 7, Xavi could ask both parties to take a step towards each other. Indeed, the Catalan technician could ensure that his management makes a new effort on the financial level and, at the same time, thatOusmane Dembele do the same; knowing that he would not have yet received a much higher offer in terms of salary than that of the Blaugrana club. And to get along with the FC Barcelona, the French world champion should give up the signing bonus that other teams would be willing to offer him. It remains to be seen whether Xavi succeed in convincing both the upper echelons of the Barca and the clan Ousmane Dembele. But if successful, the former coach ofAl Sadd would no longer have the need to recruit a new striker to replace the French striker. Thereby, Xavi could use this money to strengthen another position, and in particular his central defense which he would like to expand at all costs. Moreover, his number one target would currently be Jules Kounde (FC Sevilla). To be continued…
Related Articles
Transfers – PSG: The Campos revolution is taking shape
24hfootnews – PSG: Barcelona, ​​Juventus … Di Maria made his final decision reluctantly