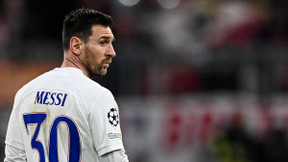 Advertisement
Advertisement
The end of Lionel Messi's contract is fast approaching and Paris Saint-Germain are doing everything possible to retain him. We've revealed that an extension is currently under discussion, but the Argentine star's future is far from straightforward and more and more people seem to be convinced that a departure is a possible scenario.
Almost 36 years old, Lionel Messi doesn't seem to be done with football. The world star of PSG was galvanized by the victory in the World Cup with theArgentina and now he seems to want to win a few more titles… but with which club?
Threatened by Zidane at PSG, he freaks out https://t.co/RfSr2HTAru pic.twitter.com/th5dTyNbI2

— 24hfootnews (@24hfootnews) March 19, 2023
Messi, talks stalled
Because if we revealed to you on 24hfootnews.com that a contract extension is under discussion with Lionel Messi, an agreement seems a long way off. El Dia confirms this scenario, explaining this Sunday that the two parties would not have found common ground for the moment.
PSG, the best option
The Parisian recently announced a sort of stagnation in exchanges between Messi And PSG, since the round of 16 second leg of the Champions League against Bayern Munich. Note that several interesting projects are presented to the Argentinian, but none seems to be as ambitious as that proposed by the Parisian club.