Advertisement
Football – Mercato – PSG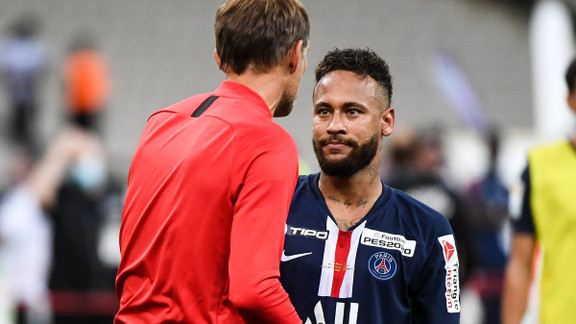 After another irregular season with PSG, Neymar received pressure this week from Nasser Al-Khelaïfi, as the Auriverde international lost his untouchable status in the capital. A departure is thus envisaged by the capital club, but also by the player, who could relaunch in the Premier League.
Again hit in an ankle and sidelined for several months, Neymar failed to achieve unanimity last season, with 13 goals and 8 assists in 28 appearances. In the crosshairs of part of the Parc des Princes after the elimination in the Champions League against the Real Madrid, Neymar also lost his untouchable status with his management, who are considering parting with him for the first time during the summer transfer window. Interviewed this week by The Parisian on the future of the star auriverde, Nasser Al-Khelaifi dropped a clear message about him: " A possible departure of Neymar this summer? What I can tell you is that we expect all players to do a lot more than last season. Much more ! They must all be 100% ", confided the president of the PSGshowing himself just as enigmatic to brand : " You can't talk about these issues in the media, some will come and some will go, but these are private negotiations. Beyond the rumors about Neymar, everyone has to give their all or else they'll have to leave. There are too many players who have profited, there will be sales. » Nasser Al-Khelaifi therefore does not close the door to a departure from number 10, which could be talked about this summer since RMC announce this Sunday that Neymar is now asking questions about the rest of his career, a few months before the World Cup in Qatar. But what are the options for its future?
Juve and Barça too fair financially
As revealed exclusively by 24hfootnews.com, Neymar will be under contract with the PSG until 2027 from July 1, but that does not prevent him from wondering about his situation after the statements of his president which did not please him. The 30-year-old striker is now waiting for the Paris Saint Germain shows a clear position concerning him, before considering a transfer. However, leads are scarce for the player due to his price tag and salary. Lately, there has been talk in particular of an interest of the Juventusbut it's hard to imagine the Brazilian flying to Turin because of the €30m net he receives each year according to AS. The same is true for the heart rate Barcelona according to information from RMC. After having tried several times to repatriate its former player, the culé club does not currently have the necessary resources to complete such an operation.
Mercato – PSG: Neymar's huge reaction to pressure from Al-Khelaïfi https://t.co/yKKncxiIT8 pic.twitter.com/D08FNMhQHO

— 24hfootnews (@24hfootnews) June 26, 2022
Manchester, Chelsea, Newcastle… A future in the Premier League for Neymar?
Thus, it is in Premier League that Neymar could land if he decided to leave the PSG. According RMC, Manchester United could afford to recruit Neymar if cristiano Ronaldo had to pack up. In the absence of the Champions League, the five-time Ballon d'Or would indeed consider leaving a year after his return to Old Trafford. Cited among the contenders for Ronaldo, chelsea could also afford an arrival of Neymar whereas Thomas Tuchel, knowing the native of Mogi das Cruzes very well after his time in Paris, is looking to strengthen himself on the offensive level. Finally, Newcastle also appears as a possible destination for the Brazilian international after his takeover by the sovereign wealth fund of Saudi Arabia, but it is not said that this track will appeal to the main interested party who does not wish to evolve anywhere a few months from the World Cup, his priority objective next season. The new episode of the soap opera Neymar is launched.