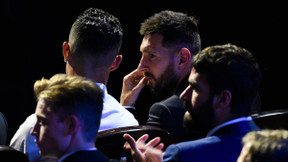 Advertisement
Advertisement
While he missed the mark in the spring of 2022, PSG would not have forgotten Erling Braut Haaland and could well come back to the charge next off-season. The club would not be wrong according to Vincent Kompany. Explanations.
Once is not custom, the PSG lost in the Champions League from the round of 16 stage as was the case last season and five times in the last seven editions of the C1. In order to break the curse, a workforce overhaul is said to be in preparation for the PSG and it is about the recruitment ofErling Braut Haaland with in parallel the departure(s) of Neymar or of Lionel Messi.
Another hat-trick for Haaland
The editorialist Daniel Riolo recently confided in fantasizing about an attacking duo made up of Kylian Mbappe and D'Erling Braut Haaland at PSG. Again multiple goalscorer with Manchester City Saturday for the account of the 1/4 final of the FA Cup against Burnley (6-0), Haaland managed to score a hat-trick.
Messi – PSG: Accused of conspiracy in Spain, he pleads guilty https://t.co/seEXnwUhs7 pic.twitter.com/UJXsOXSJzM

— 24hfootnews (@24hfootnews) March 19, 2023
Kompany claims Haaland is following in the footsteps of Messi and Ronaldo
Former captain of Manchester City and current coach of Burnley, vincent Kompany spoke about the future ofHaaland which could be announced almost as radiant as those of Lionel Messi Or cristiano Ronaldo in comments reported by The Times. "I played against the greatest. Messi, Ronaldinho, Zidane, Cristiano Ronaldo – they are part of a very special elite. Even the best defenders struggle to stop them, because someone like Erling always finds a way. He will get better, that's for sure."