'Not happy' at PSG, Messi receives surprise support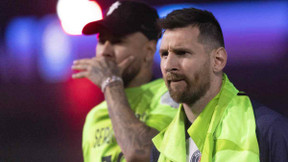 Advertisement
In the space of two seasons, Lionel Messi has not really marked the history of PSG and his time in Paris marked him, but not in the right way as he explained. Leonardo, who was behind his arrival in Paris, stepped up.
Lionel Messi only played two seasons PSG. And this, although it was agreed between the two parties when it was signed in 2021 that an optional third year could be activated at its discretion. But here it is, as he revealed to Mundo Deportivo when announcing his choice to go toInter Miami Wednesday evening, Messi was not happy at Paris Holy–German during these two years.
"I didn't have fun, and it affected my family life"
"The truth is that the first year was very difficult, as I have said many times, for different reasons. (…) A little yes, because as I just said, these were two years in which I was not happy, I did not have fun, and it affected my family life, I missed a lot things in the lives of my children at school. This is the message Lionel Messi delivered to MD. A speech that Christopher Dugarry notably regretted on the airwaves of RMC.
After Messi, Saudi Arabia is targeting another PSG superstar! https://t.co/Vr7XpKmECJ pic.twitter.com/v6nPy9Tx2H

— 24hfootnews (@24hfootnews) June 9, 2023
"I am so sorry for what happened"
Instigator of his arrival in 2021 after his departure from heart rate Barcelona, Leonardo also spoke. For the Corriere della Serathe former sports director of Paris Saint Germain apologized to Lionel Messi for the treatment he received in Paris. "I am so sorry for what happened. He is an extraordinary person and a champion worthy of entering the Olympus of football with Pelé and Maradona. He has made a life choice that will allow him to better reconcile family and work. If you go to war, with Leo you are not likely to die alone. With others, yes.
Advertisement