OM are preparing heavy for their transfer window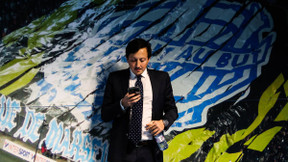 Advertisement
As the summer transfer window is about to open its doors, we can expect many movements on the side of OM. Pablo Longoria is at the helm and inevitably, we will have a special eye on the recruits he will manage to bring to the Canebière this summer. And obviously, on the side of OM, we would see things big for this transfer window.
It has now been several times since theOM is one of the major players in the transfer window, whether in France or in Europe. This summer, it should still be the case. With the approach of the opening of the summer transfer window, it comes alive at Marseilles. If the file of the future coach makes a lot of talk, it will also be necessary to renew the workforce. Many departures are expected at theOM and at the same time, there will be arrivals. Besides, Pablo Longoria would rely on many reinforcements for the Marseille group.
OM are looking for a coach, a failed world champion https://t.co/01fRbnnHTI pic.twitter.com/kwlcP5qr4V

— 24hfootnews (@24hfootnews) June 9, 2023
The defensive sector to redo at OM
So what to expect for the summer transfer window of theOM ? In the direction of arrivals, The Team announcement this Friday of the very heavy. So, ideally, the Marseille leaders would like to bring in a goalkeeper to compete a little Paul Lopeza left-back and a central defender.
It will also move in attack
But that would not be all. Thus, at least one attacking midfielder would also be expected at theOM. And there could also be a big construction site in attack. But here, everything will depend onAlexis Sanchezwho does not yet know what his future will be made of, he who always swings between an extension to theOM or a departure.
Advertisement