Advertisement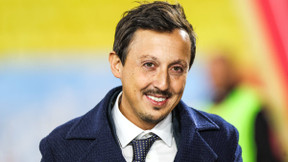 Advertisement
Advertisement
Advertisement
Very active during the winter transfer window, OM notably offered themselves the biggest transfer in their history by dropping €32m to recruit Vitinha in the last moments of the market. And obviously, the profile of the Portuguese striker perfectly matches the needs of the Marseille club.
It's the icing on the Marseille cake. After attracting Ruslan Malinovskyi And Azzedine OunahiI'OM broke his transfer record by dropping €32 million, including bonuses, in order to secure the services of Vitinhawho therefore becomes the most expensive rookie in the history of theOMbut also the biggest sale of Braga. And for the scout Mickael Marksit's a very nice shot.
News of the day pic.twitter.com/wC02F8M7sg

— 24hfootnews (@24hfootnews) February 2, 2023
Vitinha can 'do it all'
" In Braga he was playing in a two-point attack with Simon Banza or Abel Ruiz. He is a hyperactive profile that moves across the width of the attack and can play with his back to goal or deep. In fact, he has an athletic structure that allows him to do everything, with a good size (1m83), agility, resistance and a good explosiveness on the first meters ", he explains to the Phocaean, before adding a layer.
"He will be very useful in the Tudor system"
" He will be very useful in Tudor's system, as he has the chest to put constant pressure on defenders. And in front of goal, it's very interesting because he has a very wide range. He knows how to drive the ball, make the right calls in the box, put his head in or hit from distance with both feet. His register is very complete, because if you look at his goals, you see a bit of everything. With Sanchez, it can be very interesting because he will bring his physical dimension and will be able to combine technically with him. This is the profile that OM lacked », adds Mickael Marks.