OM: Payet's big update on his transfer window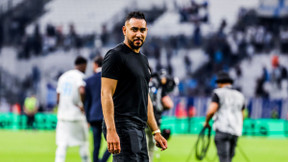 Advertisement
On the OM side, the future of Dimitri Payet is one of the subjects of this summer transfer window. After a very complicated season under the orders of Igor Tudor, the Reunionese is announced on the departure by some. Will Payet then leave OM, he who still has a year of contract? This Saturday, the main interested party spoke at length on the subject.
In recent days there has been a lot of talk about the future of Dimitri Payet. The number 10 of theOM comes out of a calvary season with Igor Tudor and despite the arrival of a new coach, a departure is mentioned. But still must the Reunionese want to leave? This is obviously not the case and for France SoccerPayet dropped a big update about his future at theOM.
OM: Payet throws a huge announcement on his future https://t.co/7itj9lUK3V pic.twitter.com/Dw9hDPP4Mt

— 24hfootnews (@24hfootnews) June 10, 2023
"I will not be loaned"
" Has this season made me want to quit? No. I've always said I'll stop when the body won't follow. This is not the case ? Well no, I just took a sabbatical year, I'm in great shape. Still at OM next season? I will not be loaned, I will be there for those who may have doubted it. And still a long time I hope ", first explained Dimitri Payet.
"I want to leave through the front door"
But the playerOM didn't stop there. He then continued, confident: If I'm afraid of becoming a burden for OM? For what reasons ? Staying in a club you love, we respected that a few years ago. And that's what we don't want today? Is that what I'm being blamed for? I can't conceive it. Someone who says to you: "I want to stay here, go nowhere else, not for the money or for another project, my family is fine, this is my club, this is my city." And you, you answer him that it is a cannonball? Otherwise, you would have told me that I am only a mercenary who thinks only of money. And requests, I still have some. The fear of missing my exit? I have never been promised anything at a club and I have always fought to have playing time. This year has certainly been complicated. But, at my age, I still learned. I will not miss my outing. This year has been exceptional emotionally with the supporters and yet it is the season where I have played the least. I want to leave through the front door and, even at 36, I still have goals that keep me awake. I tell myself that I can't stop until I win something with this club. So I can still wait until 45? Well, I'll play until I'm 45. (Laughs.) I can't leave like this. I have to leave something ".
Advertisement