OM sale: New bomb dropped on McCourt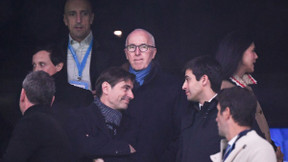 Advertisement
Faced with the numerous rumors concerning a sale of OM, Frank McCourt multiplied the denials to explain that he had no intention of letting go of his property. Was the American telling the truth? While we continue to talk about a sale of the Marseille club, McCourt's words could well be just a facade speech given that a departure could well be in the news.
Owner of theOM, Frank McCourt has already explained that he wanted to register for the long term at Marseilles. But now, at the same time, there is more and more talk of a sale of the Marseille club. This soap opera never ceases to be talked about and an assignment of theOM could happen if we are to believe Daniel Riolo.
The decision is made, an earthquake is preparing for OM https://t.co/HroRJl4tiP pic.twitter.com/DQebcd2Oi1

— 24hfootnews (@24hfootnews) May 25, 2023
"He has to find a buyer and at his price"
What about the sale of theOM ? For the live Twitch of RMC, Daniel Riolo gave his opinion on this enormous dossier to Marseilles. And then he raised the possibility that Frank McCourt leaves, confessing: Rumors of a sale of OM? There have been rumors about the sale of OM for 1000 years. When there is an owner who no longer has any reason to be in a place, McCourt no longer has any interest in being at OM, it does not bring him anything and it even makes him lose more money. money, of course it will sell. He has to find a buyer and at his price. But of course, potentially OM is on sale. We know it. Now all the rumors that have been floating around for years, there's nothing really concrete ".
"It will be very good news for the city and the club"
The question then would be who could redeem theOM To Frank McCourt. Lately all eyes have turned to Rodolphe Saade, boss of the CMA CGM group, new partner of the Marseille club. About this billionaire, Daniel Riolo has explained : " There is a new sponsor, a sponsor of a French billionaire, who is also from Marseille. It can make the Marseillais fantasize. If one day in his head he completely prints that he wants to buy OM, of course he will buy it and that will be very good news for the city and the club. ".
Advertisement