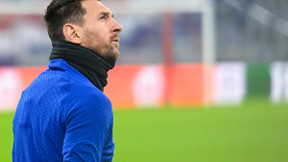 Advertisement
Advertisement
Passed by FC Barcelona between 2009 and 2013 before flying to the United States, Andreu Fontas spoke during an interview with the Spanish newspaper Mundo Deportivo. The Kansas City defender notably returned to the memories he has of Lionel Messi, his former teammate in Catalonia.
Today in MLS At Kansas City Sporting, Andreu Fontas knew Lionel Messi when he was still playing for Barcelona. Trained to La Masiathe training center of the Catalan club, he briefly knew the first team of the Barca. The Spanish defender played 16 small games in three seasons, before being loaned to Majorca, then sold the following year to Celtic Vigo, for whom he has played more than a hundred matches.
Zidane – PSG: The announcement that revives everything https://t.co/6QtPcCls5D pic.twitter.com/Bit5M5s3IY

— 24hfootnews (@24hfootnews) March 18, 2023
" You must be prudent "
During an interview at Mundo Deportivo, fontas was asked about his former teammate, Lionel Messi. The 33-year-old defender opened up about his biggest fear with the Pulga during training at Barcelona : "At the end of the day, as a partner, you have to be careful. Imagine touching him and hurting him (laughs). I remember seeing him and…he seemed to make it easy against the best defenders. (The opponents, editor's note) couldn't even tackle him because of his speed.
Soon the reunion?
Andreu Fontas And Lionel Messi rubbed shoulders in the Spanish championship until 2018, when fontas joined Kansas City. The two players could meet again next season at the UNITED STATES, since the Argentine world champion has not yet found an agreement with the PSG for a contract extension. Inter Miamiwho wishes to offer himself freely and for free Messi, is monitoring the situation very closely. But nothing is done yet, the FC Barcelona And Al Hilal also hope to convince the clan Messi.