Advertisement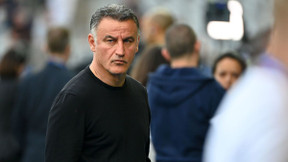 Advertisement
Advertisement
Advertisement
Last summer, to replace Mauricio Pochettino, PSG decided to trust Christophe Galtier. Thanks to Luis Campos, the Frenchman took control of the capital club, but after a very complicated season, Galtier could already pack his bags. It's getting carried away about his succession. So what would be the best solution for the next PSG coach?
Who will be the coach of the PSG next season? Today it's Christophe Galtier who is in office and despite a contract until 2024 with the capital club, the formerOGC Nice might not be there in a few weeks. Indeed, despite the looming title of French champion, the PSG did not manage to have a very good season, being eliminated in the knockout stages of the Champions League. Results which Galtier could bear, especially since behind the scenes, the Parisian management would advance its pawns to find his successor.
Galtier: PSG is torn internally https://t.co/8mBgkk1jJF pic.twitter.com/fUS63dqsgq

— 24hfootnews (@24hfootnews) May 25, 2023
PSG advance for Enrique and Gallardo
A new coach could therefore arrive at the PSG. But who ? According to the latest echoes of Parisianthe priority would be called today Luis Enrique. Former coach of theSpain and former coach of FC Barcelonathe Iberian is now free and would therefore be the solution in the eyes of the PSG. But now other options would also be explored. This would be particularly the case with Marcelo Gallardo, also free and former player of the capital club. Discussions are even already underway with Luis Campos.
Alonso, Motta, Zidane…
But other names also come back in the sights of the PSG. Xabi Alonsotoday at the head of the Bayer Leverkusen, would also please the club of the capital. There is also the option Thiago Mottastationed at bolognaas well as'Abel Ferreiratrainer of Palmeiras. And also how not to forget Jose Mourinhotoday atAS Romaas well as Zinedine Zidanefree of any contract and long heralded as Qatar's great dream to coach the PSG.
So what is the best option to coach PSG?