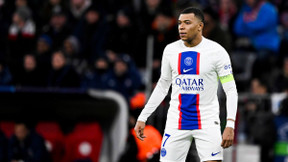 Advertisement
Advertisement
Author of his 201st minute on March 4 and now the best scorer in the history of PSG, Kylian Mbappé received the congratulations of his teammate, Nuno Mendes. The Portuguese player now hopes that the Frenchman will continue to score goals in the Parisian jersey, thanks to his help.
On March 4, Kylian Mbappé wrote the history of the PSG by becoming, alone, best scorer in the history of the PSG. The player exceeded the mark ofEdinson Cavani, 200 goals. In an interview with club media, Nuno Mendes congratulated his teammate.
"His time will come": He rejects Kylian Mbappé and explains https://t.co/M5oTevkZvu pic.twitter.com/w6DZHcUA2M

— 24hfootnews (@24hfootnews) March 17, 2023
"We have a good connection with Kylian"
" We are two very fast players, Kylian is a bit faster than me, but I think we have a good connection and the speed helps us a lot. It doesn't work in every game, but when it worked there were goals and I intend to give him a lot of assists again, like my other teammates." did he declare. But for Nuno Mendes, it's not sufficient.
Nuno Mendes wants to help Mbappé
The Portuguese hopes Mbappe will continue its momentum, in particular thanks to its assistance. " If I can help him score, it's good for me to participate. He reached 201 goals, he is the top scorer in the history of PSG and I am very happy to have participated in this objective. He succeeded, I'm happy for him and I hope he scores a lot more." said Nuno Mendes.