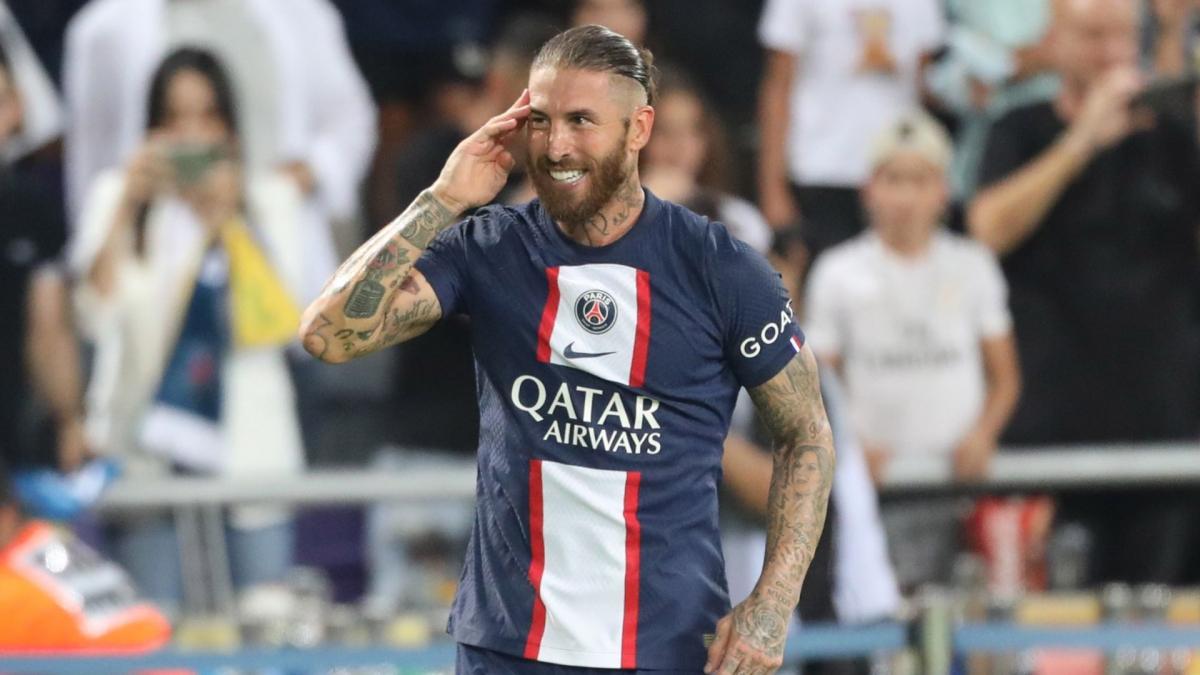 After a complicated first 2021/2022 season in the Paris Saint-Germain jersey, Sergio Ramos seems ready to return to his former level. With 13 small matches (9 as a starter) in all competitions last year (2 goals), the Spanish central defender had been the target of criticism because of his calf problems, which caused him to miss 33 PSG games. , so the knockout stages of the Champions League against his former club, Real Madrid. Nevertheless, the start of his second year erases these negative echoes: holder alongside Marquinhos and Presnel Kimpembe, the international from La Roja (180 caps, 23 goals) was solid defensively and even turned into a scorer of a heel in the second half against FC Nantes.
A first coronation for PSG at the Trophée des Champions, which brings him confidence on a personal level. "The truth is I'm in for a good time, physically fit after a good pre-season, a lot of effort and dedication, a lot of hours spent feeling good, he said in an interview with the club's official media. Fortunately, we started the season winning a title, I was able to show a good level in the game and I was able to score a goal in a final and it is always very special. (…) Mentally, it's always good for the group to start by winning a title, it's always important: defending, keeping our clean sheets, it's also our priority. But if you can then contribute offensively by scoring goals, that's even better."
A good relationship with Galtier
The quadruple European champion with Real Madrid (2014, 2016, 2017 and 2018) then spoke about his relationship with his new coach Christophe Galtier, who arrived on the Paris bench this summer from OGC Nice. "We still have a little problem with the language (laughs), but he speaks slowly, I understand him perfectly. We communicate well together, on the new game system that we are adopting, on what it expects of us. In the end, we understand each other very well, he is a coach with a very high technical and tactical level. He won the championship with another French team (Lille in 2020/2021, editor's note), so he's someone experienced in football and we have to take advantage of that and try to project the ideas of the coach. in the field."
The 36-year-old defender did not hesitate to address the tactical change that has come with the new management: the 3-man defense, which he has had very little experience with, whether with Spain or Real Madrid. "It's also an advantage to play with three centrals, because it gives stability, solidity and a very high defensive balance which gives the attackers a lot of security on the counter-attacks, they can come back a little more slowly. But in general, I think that little by little, we get to know each other, we learn the timing necessary to cover and make the permutations with the pistons and the laterals. (…) I am delighted to be part of the eleven and especially as a central defender on the right. When you work as a team, you need solidarity, respect and above all communication, which in my opinion is the most important to move the block forward or when you have to push it back to defend.
Finally, on the eve of the trip to the lawn of Gabriel-Montpied to face Clermont Foot 63 there for the first match of the 2022/2023 Ligue 1 season, the former Merengue wanted to recall the importance that must be given to the Parisian workforce to the 19 other teams in the championship. "All the teams that play against Paris have a very good opportunity to show themselves. So for all the opponents, we have the greatest respect and we know that if we are relaxed, the match will be much more difficult. So we have to give each opponent the importance they deserve. The opponent we will have on Saturday (Clermont, editor's note) will want to win, we too are playing away, without our supporters. These are things that we have to take into account, we have to be well concentrated, focused on winning and doing things well because it will be a difficult game. But let's hope, of course, that we win."