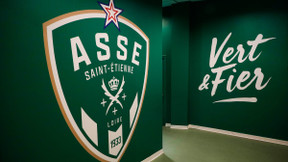 Advertisement
Advertisement
During the winter transfer window, ASSE was clearly not idle on the transfer window, completing the arrival of seven new players. But while the market ended on January 31 at midnight, it is still open for some championships, which suggests the opportunity to close some sales in the coming hours.
This winter, theASSE set fire to the transfer window. In great danger in the league, the Greens absolutely want to avoid relegation to National. With this in mind, no less than seven players have been recruited, namely Gautier Larsonneur, Gaetan Charbonnier, Lamine Fomba, Niels Nkounkou, Kader Bamba, Denis Appiah and finally Mateo Pavlovic. But in the direction of departures, it was much calmer.
"We came across twisted people", ASSE is annoyed after this humiliation of the transfer window https://t.co/yi8wcFHllJ pic.twitter.com/shxaTDwek4

— 24hfootnews (@24hfootnews) February 4, 2023
Perrin announces departures
However, it is not finished as advertised Loic Perrin at a press conference: Yes, departures are still possible. Charles (Abi) is going to leave. Others may be leaving too, because markets are still open. Without betraying any secrets, this could particularly concern the guards, we have four of them. If something opens at this level, we will enter into discussion ".
Abi and Green mainly concerned?
So, Charles Abi should join Lausanne-Ouchy Stadium in Switzerland whileStephen Green is regularly mentioned among the candidates for departure. It must be said that with Gautier Larsonneur And Matthew Dreyerthe young goalkeeper has almost no chance of playing with theASSE.