the beautiful premiere of El Chadaille Bitshiabu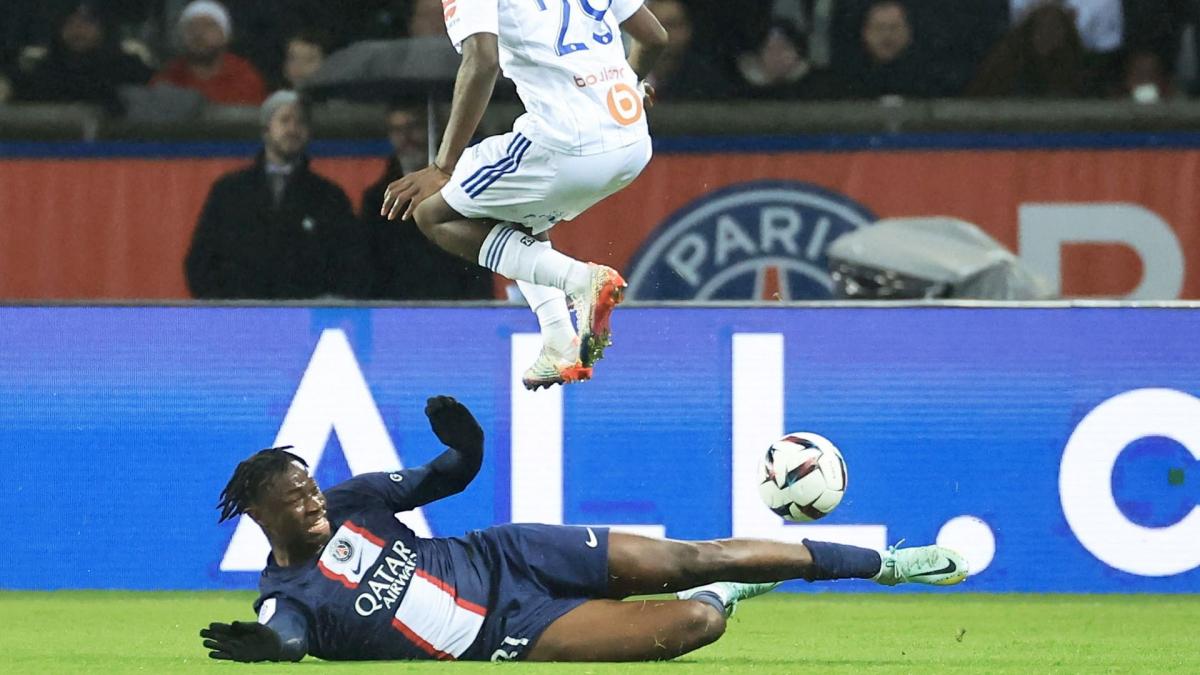 Advertisement
What's next after this ad
He was the last minute guest in the PSG eleven when the compositions were announced. Surprise, no Juan Bernat who was expected, even less Nuno Mendes, injured and forfeited for this meeting, but the very young El Chadaille Bitshiabu (17), holder of the left-back position with PSG for the resumption of the Ligue 1 face, when receiving Strasbourg (2-1 victory). He was celebrating his first tenure of his professional career.
Already appeared in the group for about a year, and even came into play three times last season (42 minutes of play in total), and for 7 minutes in Ajaccio on October 21, the usual central defender this time started . And it is clear that during these 79 minutes spent on the field, the Titi was not cold in the eyes in a yet complicated match against a tough team, and reinforced by a numerical superiority after the red awarded to Neymar.
To read
PSG: the great winning return of the savior Kylian Mbappé
Galtier's praise
"Due to the absence of Nuno Mendes and Juan Bernat, who felt pain in his thigh this morning. We have two close matches, I remind you, so I followed the advice of my medical staff by deciding not to play him tonight to have a chance to find him in Lens (Sunday). Even if there weren't many of us, we had worked on the possibility that Chad, that's his nickname in the locker room, could be used on the left. Quickly, we realized that he was not comfortable on the offensive level, but he was very good defensively on the other hand.greeted Galtier in a post-match press conference.
What's next after this ad
Indeed, the guy of 1m96 has done everything well or almost. After one of the first balls messed up and sent directly to the opponent, he seemed perfectly at ease. First defensively with this authoritarian return to Bellegarde (17th), and by keeping his vigilance in a one-on-one against the midfielder (43rd), then during this very good defensive tackle in front of Doukouré (23rd), and by taking the upper hand twice in a row physically over Gameiro (27th, 28th), while on the second action, the attacker had the possibility of spinning on goal.
Ovation of the Parc des Princes at its exit
Less in demand in the second half, he was able to stay focused on rare yet crucial interventions. This other tackle proved to be life-saving on this loss of the Parisian ball (53rd), before his exit to a very nice ovation from the public at the Parc des Princes, which he will probably remember for a very long time. Offensively, we haven't seen much of him. In the same lane as Mbappé, he did not often have the opportunity to shine and probably did not want to take too many risks, but we will note this nice hook on Doukouré at the start of the game (7th).
What's next after this ad
What to receive the congratulations of his trainer. "We had to change our animation a bit. That's why we saw him participate very little at times during the meeting. We had to change our way of getting the ball out a bit to be able to exploit El Chadaille's strengths. But for a first, in a context like tonight, he had a very good match. A very good first pro tenure, which will probably call for others in the near future because he has convinced. A way also to send him a message, he who, we remember, was courted by Bayern Munich in particular.
Pub. the
update the
Advertisement