Advertisement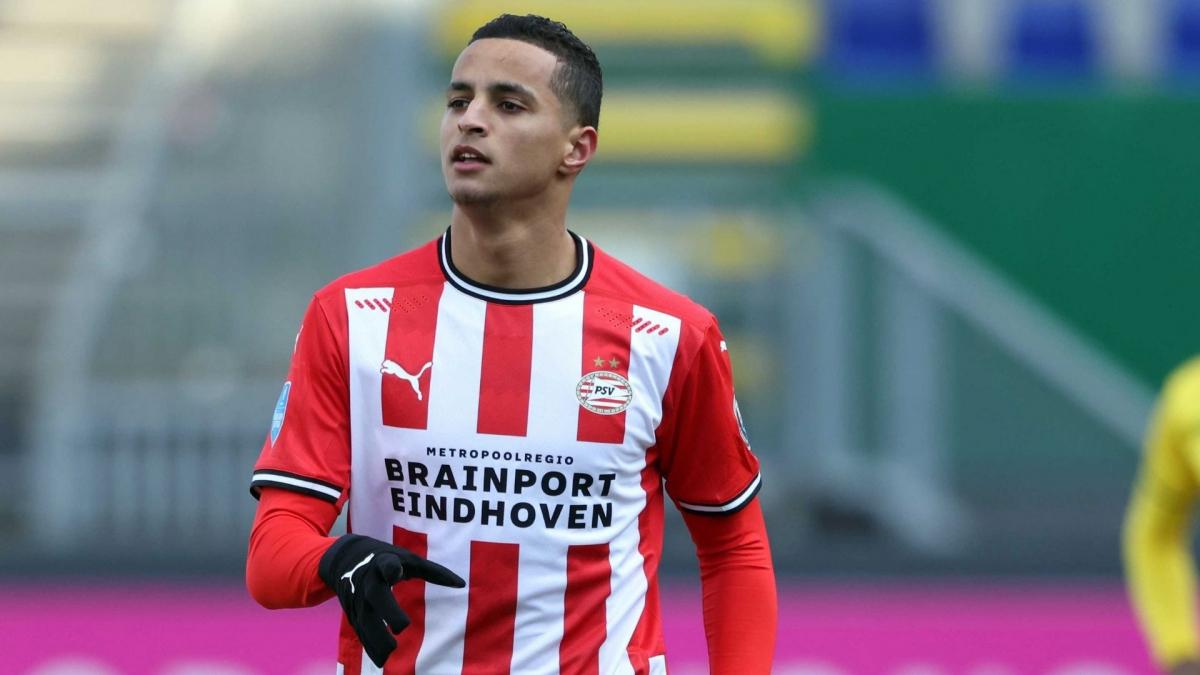 Bojan Krkic, Jesé Rodriguez, Matias Kranevitter, Gabriel Obertan, Luciano Vietto, the list of young talents who have not had the career predicted for them is enormous. Injury or pressure management are often factors in these failures. For Mohamed Ihattaren nothing is finished for the moment, because at 19 years old, with a certain talent and with Mino Raiola as agent, he has the keys to reverse the deal. However, the Dutch-Moroccan is seeing his career in dangerously weakening. Purchased from Juventus this summer after having experienced a rather heated divorce with PSV Eindhoven, Mohamed Ihattaren was sent on loan to Sampdoria to have more playing time. If the idea had something to seduce, nothing goes as planned . Since last October 12, Sampdoria has not heard from the player who asked to return to the Netherlands for family reasons. Since the blur is total and this is not surprising on the side of PSV Eindhoven.
Debut with a bang
Born in the Netherlands, Mohamed Ihatarren comes from the district of Kanaleneiland, a disadvantaged place of Utrecht where a former Dutch talent of Moroccan origin lived: Ibrahim Afellay. Like his eldest spent at FC Barcelona and whose career has not followed his talent, Mohamed Ihatarren quickly developed a passion and joined a club in the suburbs of Utrecht, SV Houten. Very quickly, his talent jumped out in everyone's eyes and he decided to join the PSV Eindhoven training center. In one of the three biggest clubs in the country with Ajax Amsterdam and Feyenoord, Mohamed Ihatarren continues to impress and passes the different age groups brilliantly. A versatile attacking midfielder capable of playing in the corridors, he made his first-team debut in January 2019 against Groningen. While he is not yet 17 years old, he impresses his world and continues to cause a sensation over the months.
Installed in the shoes of a holder by Mark Van Bommel for the 2019/2020 season, Mohamed Ihattaren will confirm all the potential demonstrated so far. With 7 goals and 9 assists in 33 matches in all competitions and a preponderant role in the Boeren squad, the native of Utrecht seems very close to joining the selection and in a battle with Morocco, the Netherlands l ' selected in September 2020. Not come into play, he will then experience more complicated moments with his new coach Roger Schmidt. The latter who arrived by integrating rookie Mario Götze in the position of number 10 has often put Mohamed Ihatarren in the left or right lane. Poorly performing (29 matches, 3 goals and 2 assists) and relegated to the role of substitute against an attacking sector made up of Mario Götze, Noni Madueke, Cody Gakpo and Eran Zahavi, Mohamed Ihatarren continued to sink. In addition, physical problems were often mentioned to explain the absences of the player which had the gift of annoying coach Roger Schmidt.
The start of trouble
"Yes it's strange that he's sick more often, but that's also part of football. It's been a season of ups and downs for Mo and he wants to end the season well. But he had knee problems and now he's sick. We hope to be able to prepare him for Thursday's game against PEC Zwolle. We will see if he can play for a few minutes and then play in the last matches " let go of the German coach after the elimination in the round of 16 of the Europa League against Olympiakos last February. In the process, an altercation between the coach and the player took place and the latter was removed from the group to challenge Ajax Amsterdam. It even pushed Mino Raiola out of his hinges.
"What happened yesterday is absolutely unworthy of PSV. We do not agree with the content, but the way it has been presented is unacceptable and unacceptable. Does Schmidt need a third party like the group of players to have an opinion? Next time he should tell his partner what he thinks. Special footballers need a special approach. In this regard, I am happy that Schmidt was not the coach of Maradona, because then we would never have seen the real Maradona " let the influential Italian-Dutch agent explode last March. A bottle of oil thrown on a fire which did not help matters quite the contrary. Wishing to pack up in the last summer transfer window, Mohamed Ihattaren entered into a total divorce with the Dutch club which no longer included him in the workforce.
A complicated transfer window for Mohamed Ihatarren
On the bench for the first leg of the second preliminary round of the Champions League against Galatarasay (5-1), he was forfeited for illness in the second leg. Here again, Roger Schmidt added a layer and pointed out the investment of his player: "At the moment he's just one of my 23 players. These players are all in good shape which is good so it is definitely an option for me. It wasn't an easy year for him, but it wasn't an easy year for him either. What does he need to do better? It needs to become more reliable. In which? In terms of tactics, in terms of mentality, in terms of motivation: in every way. " He will never be part of the PSV Eindhoven group again.
Ufficiale: Mohamed Amine Ihattaren è un giocatore della Juventus https://t.co/0RFIl8VyIS pic.twitter.com/h0G4Di2KNT

– JuventusFC (@juventusfc) August 31, 2021
During the transfer window, Mino Raiola will therefore seek him a point of fall. Quickly mentioned in Nice, he was still a player for PSV Eindhoven on the last day of the transfer window. Ultimately, Juventus took a chance and grabbed the signing. Estimated at around twenty million euros 2 years ago, the player left his training club against 1.9 million euros in a total divorce. Signing the player for four years, Juventus immediately loaned him to Sampdoria. With the Genoa-based club, the goal was to gain playing time to quickly become competitive again. A very interesting choice on paper which is finally turning into a total fiasco.
Sampdoria tried to help him
Happy to be able to count on a talented player in attack knowing that Manolo Gabbiadini and Valerio Verre quickly suffered injuries just like Ernesto Torregrossa, Sampdoria quickly became disillusioned. When he arrived at "la Superbe", Mohamed Ihatarren was five kilos overweight and coach Roberto D'Aversa quickly put in place a plan so that he could recover his delay in terms of preparation. Put on the bench last September 12 against Inter Milan so that he could discover the Stadio Luigi Ferraris, he was able to count on a healthy environment in order to regain confidence and refocus on football. Yet Mohamed Ihattaren quickly felt unhappy in Italy as revealed AD.
Even if at one point he joined the collective sessions, some escapades on the side of Monaco and Milan on the part of the player went badly. His relatives who hoped that a move to Italy would do him good were quickly worried and even though a personal assistant was assigned to him, it was not enough. As for two years, an element resurfaces to evoke the problems of Mohamed Ihattaren, the death of his father in the fall of 2019 which affected him terribly. Little by little, he has moved further and further away from football and should even change representatives soon. Having left to relax in the Netherlands for family reasons, he warned Sampdoria that he would be absent indefinitely. The Italian club which is disappointed by the behavior of the player despite his attempts to help him expects nothing more.
Missing in action
Dutch media also explained that PSV Eindhoven were monitoring their foal's situation. Within the club it would have been very sad to see a child of the Boeren slowly destroy his career in this way. However, it also confirmed PSV Eindhoven in their certainties. Despite all the help made available, this is not enough and the reaction must come from Mohamed Ihatarren. Blocked at least until January from the Sampdoria coast, he no longer seems to have a future in the club and he will not play more at Juventus, especially in a physical situation far from that of a professional. Thus, the winter transfer window should be lively for Mohamed Ihatarren. In any case if he decides to return to Italy …
This Thursday, the Gazzetta dello Sport announced that the player has not returned to the Sampdoria side. Worse, he was not seen in Utrecht in his childhood neighborhood and he has not given any sign of life since returning to the Netherlands on October 12. A situation that worries more and more in Italy. After opposing PSV Eindhoven, Mohamed Ihatarren is doing the same with Sampdoria. At just 19 and with a bright future ahead of him, the attacking midfielder is shattering everything.