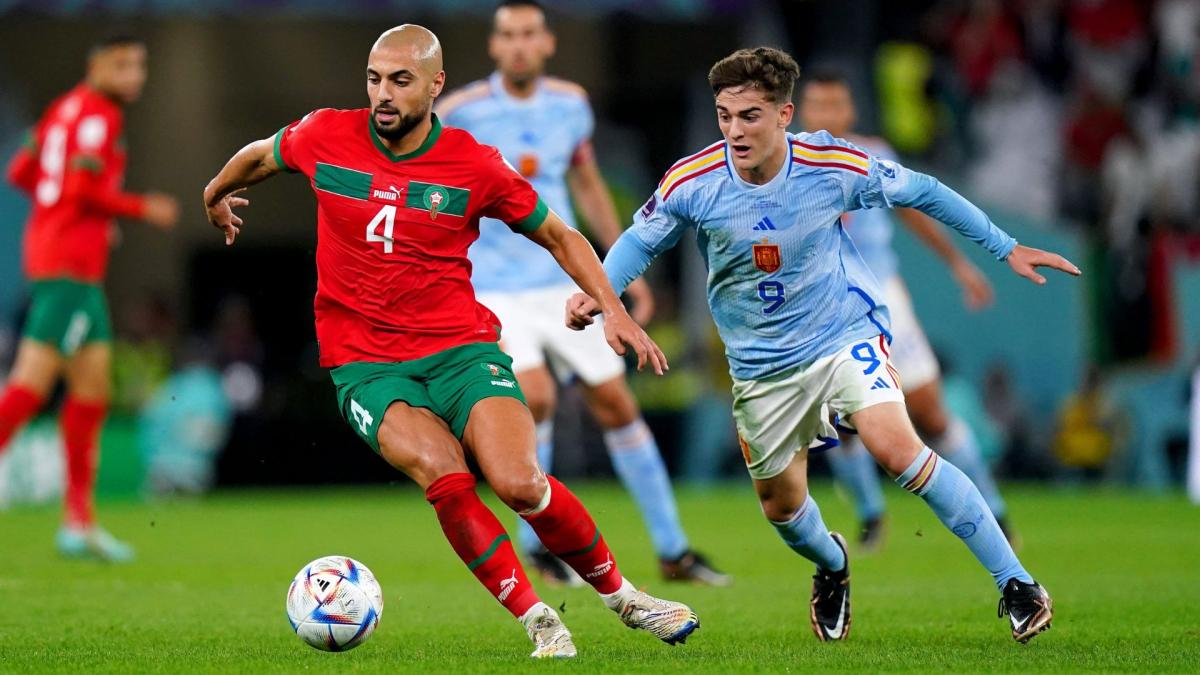 It's an open secret: since its first edition in 1930, the World Cup has always been a showcase for players from all over the world, in order to display their qualities and attract the attention of the biggest teams, in particular in Europe. And for this 22nd edition of the World Cup, organized in Qatar, a midfielder was able to demonstrate himself in the jersey of Morocco: Sofyan Amrabat. The number 4 of the Atlas Lions was still brilliant in the midfield of Walid Regragui, during the historic qualification for the quarter-finals torn from the penalty shootout at the expense of Spain on Tuesday at the start of the evening ( 0-0, 3-0 on pens).
Indisputable holder in the sentry post in the middle at 3, the native of Huizen (south-east of Amsterdam), under contract with Fiorentina until 2024) was imperial against La Roja, winning 7 of his 8 disputed duels. In addition to being a very good returner (87% of successful passes on average in this World Cup), the brother of Moroccan international Nordin Amrabat (64 caps, 7 goals) also has an excellent sense of timing in his interventions (4 successful tackles out of 4 against Spain) and is distinguished by an impressive physical chest, which does not alter his reading of the game to short-circuit opposing attacks. Assets that have not left indifferent several cadors of the Old Continent…
The Premier League online
Indeed, according to our information, Sofyan Amrabat's entourage has already met Liverpool coach Jürgen Klopp, eager to strengthen his midfield for the second half of the busy season to come. The meeting between the two parties has also been positive, and the latter have planned to see each other again after the 2022 World Cup. For the moment, the 26-year-old is focused on his World mission with the Lions. 'Atlas. However, the Reds would not be the only ones on the other side of the Channel to want to win the services of the Moroccan with 42 caps since March 2017.
Still according to our sources, Tottenham, but also Inter Milan in Italy, are monitoring his contractual situation carefully, as are other English top-flight clubs, ready to dislodge him from Viola, which has an option of extension for a further year. Spurs were close to completing his transfer last summer, to no avail. On the side of the main interested party, Sofyan Amrabat appreciates the Premier League and could therefore well realize his dream. In the event of a big performance (one more) against Portugal this Saturday (4 p.m.), its value would continue to climb to the delight of Fiorentina.