The revelations of the Ligue 2 season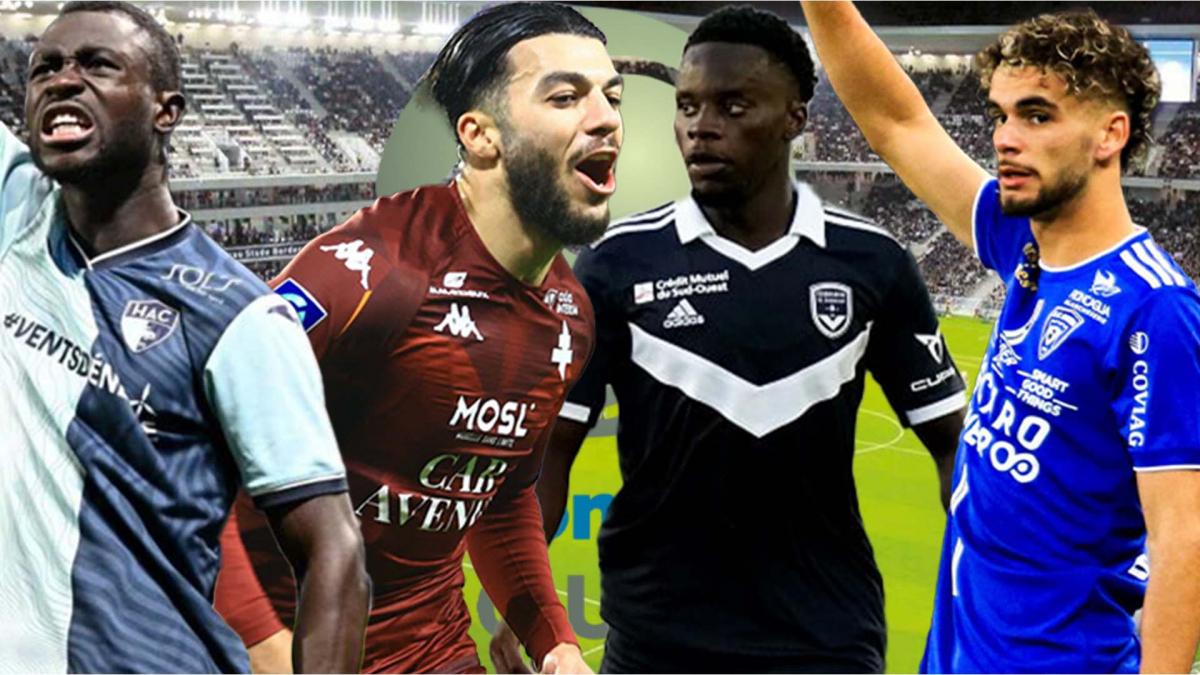 Advertisement
We are entering the home stretch of this Ligue 2, version 2022/2023. Le Havre is on track to find the elite, as the battle rages behind. Bordeaux (2nd), Sochaux (3rd), Metz (4th) and Bastia (5th) stand in just 5 points. Even Caen (6th) and Grenoble (7th) have not yet said their last words even if they are a little further (respectively 7 and 9 points from the Girondins). There will only be one elected after the HAC. As a reminder, the championship has adapted to the 4 runs. There will be no play-offs. While waiting to know the verdict of the championship, it's time to present these revelations of the season, which should be talked about during the next transfer window.
What's next after this ad
Arouna Sangante, defender, 20 years old, Le Havre
If the leader also has the best defense in Ligue 2 (14 goals conceded in 28 games), he owes it in large part to Arouna Sangante. The young element has definitely imposed itself in this hinge, even becoming indispensable in the eyes of Luka Elsner. It's very simple, apart from the match in Amiens where he was absent, he participated in every minute of his team (27 matches). And even when he made a big mistake against Laval, it was he who offered the winning goal. Proof that he has the ability to bounce back quickly. The Senegalese has also scored three goals this season. Under contract until 2025, the one who was partly trained at Red Star before heading to Normandy will have the next objective of being called up by the A's of Aliou Cissé.
To read
When a player from Bordeaux asked to make films
Amir Richardson, midfielder, 21 years old, Le Havre
Little by little, the slender midfielder (1m95) is gaining in thickness. Recruited last summer by Stade de Reims and then loaned to his training club, he confirms the good dispositions interviewed last season with Paul Le Guen but better. Associated with captain Victor Lekhal and another revelation of the championship, the young Yassine Kechta, the Franco-American-Moroccan confirmed his status as a starter (22 times out of 26 league games), taking on another dimension in passing. It must be said that his positioning has changed on the ground. Less focused on defensive tasks, he can project himself more forward and it shows in the statistics since he already has 3 goals and 4 assists. A taste of what he can show in Ligue 1 next year.
What's next after this ad
Dilane Bakwa, winger, 20 years old, Bordeaux
Bordeaux is launched in this intense race to find Ligue 1 and can count on the young winger to take him there. He didn't really experience the horrible last season during which he made rare appearances. The mind was therefore rather fresh before attacking this exercise and it was quickly seen. Capable of playing on both sides, the left-hander is the most decisive player aged 20 or less in the championship (5 goals and 5 assists in 26 games. He still lacks consistency and concentration, but his activity and his ability to eliminate did a lot of good for the Girondins. His name even appeared on the side of Lorient this winter to replace Dango Ouattara. The press mentioned a check for 12 M€ but Bakwa remained well within his training club. A taste of this summer.
Junior Mwanga, central defender/midfielder, 19 years old, Bordeaux
Almost not seen last year during the black season of the Girondins (1 game), the defender has revealed himself this year. David Guion immediately trusted him by installing it in his central hinge. Strong in duels despite a not so impressive size (1m84), he also knows how to handle the ball. Even if he experienced a little slack in the fall, Junior Mwanga still discovered the France U20 team thanks to his performances. Another strong point to put to his credit, his versatility. Replaced in midfield during the resumption in December, he adapted very well. Issouf Sissokho's return from injury has taken him down a notch to come back better in the last three games. Aware that he must count on him for the future, the club with the scapular extended it until 2026 last month.
What's next after this ad
Georges Mikautadze, striker, 22 years old, FC Metz
He is the X factor of FC Metz this season. Author of 14 goals in 28 league games, which allows him to occupy the place of top scorer in Ligue 2 with Jean-Philippe Krasso, the Georgian international confirms his progress. The striker is even in great shape since the resumption of competitions after the World Cup. He is a continuation of what he showed during his two loans to Seraing in Belgium, first in the 2nd division (19 goals) two years ago, then in the Jupier Pro League (9 goals) the year pass. The native of Lyon even has 7 assists (best passer in the championship), proof that he is not just a scorer. With him in his ranks, the Grenats can get something big at the end of the season, which would allow Mikautadze to finally discover Ligue 1 over time.
Kevin van den Kerkhof, right-back, 27 years old, Bastia
This is undoubtedly the biggest surprise of this Ligue 2 championship this season. Not retained by Lorient at the age of 20, the full-back went back to the amateur club of Feignies (the club has since changed its name, Entente Feignies-Aulnoye) in his native north, then Belgium (4th division at La Louvière and Olympique de Charleroi in the 3rd division) and Luxembourg (Dudelange) to finally discover the professional world in France. It is Bastia who comes to get him and where he explodes at this level, at 27 years old. Indisputable holder (26 times out of 28 matches, in which he all participated), the player even has 4 goals and 5 assists, impressive statistics for a side, who has very good defensive qualities. His progress and his carefree attitude opened the doors of the Algerian team to him, where he has just been called up by Djamel Belmadi.
What's next after this ad
Formose Mendy, central defender, 22 years old, Amiens
The Picard club is having a rather disappointing season, but can boast of having some promising elements in its workforce. In addition to the very young George Ilenikhena, scorer at only 16 years and 150 days last January, Formose Mendy has become the defense manager. After a promising, but somewhat irregular first season, the Senegalese has gained in consistency, while still experiencing a few slumps. His performances earned him a call up for the World Cup. Even if he has not played a single minute in Qatar, he is gradually settling into Aliou Cissé's group. The transfer window has probably turned him upside down a bit, he who was cited on the side of West Ham, Monaco or even Reims this winter. There is no doubt that his departure is looming this summer.
Moïse Sahi Dion, striker, 21 years old, Annecy
He is not unknown either since he has already had a few appearances in Ligue 1 and even a goal against PSG in April 2021 with Strasbourg. On loan from Racing, the striker is gaining playing time and experience with Annecy, who are having an amazing season. 12 goals in 27 Ligue 2 games and 5 achievements in the Coupe de France later, the "Malian Messi", a nickname that has pursued him since his debut in Bamako, displays his qualities as a finisher. Since the resumption of competition at the end of December, he is even the top scorer in the championship (9 goals over this period) with an excellent success rate (one goal for every 2 shots). His return to Alsace next summer will be good for Strasbourg and will be an opportunity to take a little personal revenge since a long injury last year precipitated his downgrading.
Pub. THE
update the
Advertisement