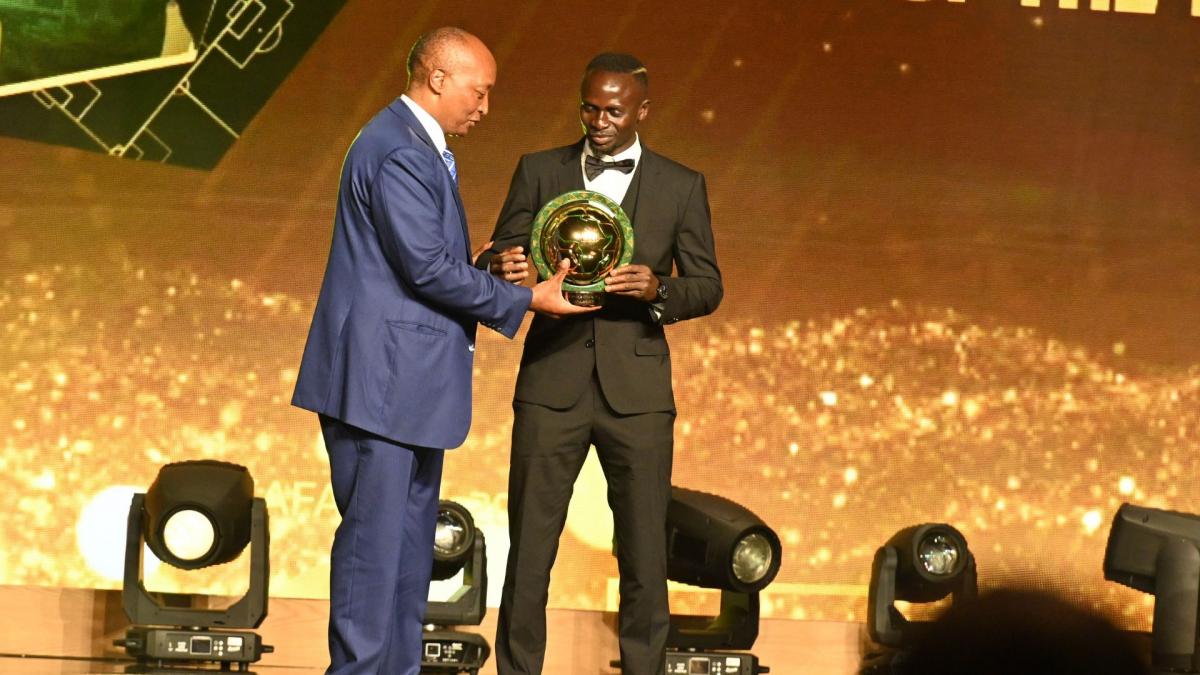 The Champions League, the Premier League, the African Cup of Nations, the African Ballon d'Or. In recent years, everything has succeeded in Sadio Mané. The new recruit from Bayern Munich won a second individual distinction in three years this Thursday evening in Rabat. A distinction that has confirmed an XXL season both in club and selection. And while everything seems to be working for him, one could almost wonder where Sadio Mané will stop? And he was pretty clear on that. "Winning the CAN was my biggest dream as I always said. But the World Cup is not far away, it's soon. I have this feeling in me that I can still do something like our elders before. I will want to achieve my goals. The CAN was the best trophy of my life. Dreaming is very important, you have to dream big, because everything is possible. If you don't give up, you'll be on the right path and you can achieve your dreams."he told us at a press conference.
With a new Golden Ball to his credit, Sadio Mané is expanding his already very well-filled list a little more. But there is no question of stopping or lowering the intensity. The native of Bambali wants to go for records and still other African Ballon d'Or with the dream why not of winning the supreme title of best player in the world a player. "I come from very far away and I'm always hungry, I tell you. I will try to train hard until the last day of my career. Records are made to be broken, but only if you think it's possible. I will try to give myself the means. But above all I want to win a new CAN with Senegal. I want to relive that and also go very far at the World Cup. That's what I want to fight for and make my people proud. It must be clear: I am not going to stop there. This is just the beginning. With coach Aliou Cissé and the rest, it must remain Senegal's DNA for the next few years. I would do my best for my country".
Senegal on the roof of the continent
His country, Senegal, confirmed that he was now alone on the roof of Africa. After failing in the CAN final in 2019, the Lions finally got this precious trophy they had always coveted. And Sadio Mané was a great craftsman just like… Aliou Cissé. The Senegalese coach, very moved when also receiving his trophy for best African coach of the year, laid the foundations of a very talented generation. A very young generation and which could quickly be embodied – if not already – by Pape Matar Sarr elected this Thursday best young African player of the year. If his performances in selection were satisfactory, one can wonder about his very average services in club with FC Metz where he was loaned by Tottenham. Tastes and colors are not discussed, it will be said.
And it is not Pape Ousmane Sakho who will say the opposite. The 25-year-old Senegal striker was awarded the Goal of the Year trophy after a scissoring wonder with his Tanzanian side Simba SC. And to crown an evening in Senegalese colors, it is obviously Senegal which was named African team of the year. In short, a nice 5 out of 5 for the country which is also lucky to have a star like Sadio Mané in its ranks…