Advertisement
Arrived at the end of last season, when times were troubled, Jorge Sampaoli was the promise of a clearing in the skies of Olympique de Marseille. We were waiting to see his paw, the players who would improve and which recruits the Argentinian would see arrive.
Matteo Guendouzi and Gerson in the middle, not bad. But we immediately said that seats were going to be expensive. After Pape Gueye's good start to the season, we even thought it was going to be done for Valentin Rongier (26). Nay. The Nantais would discover a new position, that of a hybrid midfielder (in the offensive phase) -right side (in the defensive phase).
Sampaoli appreciates his progress
He really performed in this role, showing us qualities that he had hidden from us since his arrival in Marseille. According to his coach, he is even the player who has improved the most since his arrival in the Phocaean City.
" He is one of the players who has consolidated with us the most with the ball. Before, he moved a lot on the field, but not according to the possession of the team. We wanted to educate him differently with this position of side, middle, Pol Lirola was not there yet. We had to do that as with Boubacar Kamara. We do it with other players, because the squad is not complete. He has made good progress, he understands very well, he helped us a lot when he had to play in this position. He is a very versatile player also in understanding the game. He is not yet at his top level, in the future he could be even better. »Sampaoli confides at a press conference.
Trebel and Khaoui are not surprised
It is all the more astonishing to see him at this level when we remember this timid midfielder he became after only a few months in Marseille. But that does not surprise Adrien Trebel, who knew him in Nantes. " Valentin is a player with a big mind, no matter the context, he will always work, no matter the players with whom he is competing, he will get his place and his playing time. I think that, for him, to go to OM allowed him to grow up and become the important player he is. I also think that Jorge Sampaoli likes this kind of player, who does not hide and Valentin has everything to be a team player. He runs everywhere, collects a lot of balls, he has a very good technique, directs the game very well. He is improving from week to week and from match to match. It bodes well for the future », Explains the Anderlecht player.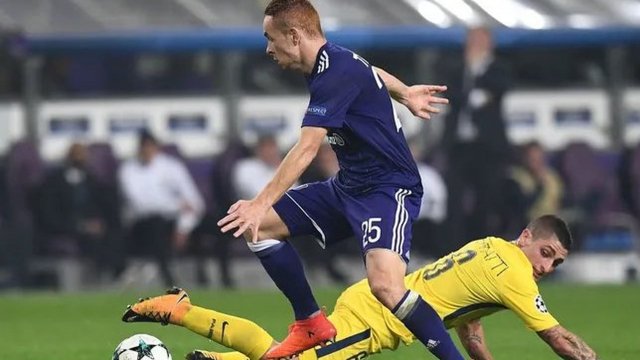 Saîf-Eddine Khaoui, a close friend of Rongier until his departure from OM last season, agrees: " yes I watched almost all their matches! Frankly, he didn't give up because it wasn't easy at the start for this season, with all the rookies, but he did the job! He gave himself the means to get there and he is rewarded. He is a hard worker and so far it pays off. I think he assimilated the idea of ​​the coach's game already, and then I think he worked on his own to get there ".
Zubizarreta had no doubts
However, after his transfer from Nantes after the end of the transfer window, as a joker, many were skeptical. Except one, the one who recruited him. " He needed a new project after Nantes and this need to prove in Marseille. You have to adapt, understand the club, the Vélodrome. I had no doubts about its ability to develop. It matches the plan we had when we recruited him », Confides Andoni Zubizarreta.
The former sports director of OM continues to weave laurels in the Canary. "Valentin is a player who understands and loves the game. He can play three or two, in any game system. He has a very good physical condition. He can adapt to a more offensive position, even if he likes the heart of the game. He's a very good player, also in the locker room. It maintains happiness. He is very professional, it allows him to bounce back in complicated moments for him. He understands the game well and he can work well in systems. He needs confidence to progress, it's also up to the coach to give him that. It's up to him to develop, to score more goals. I think he prefers the distribution of the game, to give assists rather than scoring He continues.
No one, at least of those who know him, is therefore surprised by his level, his physical slaughter, his recoveries and his flights with the ball. Like what, sometimes, giving time to a player who, for a long time last year, has played with pain in the heel, can be effective. Hoping for him, and for the explosive OM of Jorge Sampaoli, that it continues!