What does Beto bring to Everton
As Beto walks through the doors of Finch Farm, there is an air of excitement among everyone working donning that Everton badge and ones who consider Goodison Park their home. There is something about him. Something that makes you clinch your feet on the edge of your seat, and Udinese fans know all about it…
Putting pen to paper on his Everton contract, Beto becomes only the third summer arrival at Everton following the veteran Ashley Young, who joined on a free transfer and his countryman, another striker Youssef Chermiti from Sporting.
There is a problem, a goal problem for Sean Dyche… Everton have certainly lacked goals in their opening three fixtures where each time they came empty handed in front of goal while conceding six in the time. Will Beto solve this?? Let's take a look –
A brief background
Jogging back to August 2021, where Udinese completed the acquisition of Beto on a loan agreement, originating from Portimonense. Like many of Udinese's acquisition he was also an unknown entity ready and set to burst into the scene.
His arrival at Udinese was characterized by his advancement from the junior system of União de Tires to his participation with Clube Olímpico do Montijo during the 2018/19 season. During this period, he showed notable performance by scoring 21 goals in 34 matches in the Portuguese third-tier league. Portimonense took notice of this development, wherein Beto displayed more improvement by scoring a total of 11 goals in 30 matches in the Liga NOS league during his second season with the club.
Its only four years to Beto playing in Portugal's fourth tier with a few hundred people looking over. Before so, he worked in a KFC at 18 and had no option but to be blindly optimistic about his chances of becoming a professional football player. His colleagues in Lisbon, where he was playing as an amateur, bet that he would not make it to the professional league within the next five years. The striker explains to Optus Sport, "I said 'okay, fine,' and I did it after only four years." 
That says alot about how far he has come… he scored in double figures in both of his seasons in Italy. Some compare him to Romelu Lukaku, and some to Isak with a keen understanding of how mobile he is despite his stature of 6'4, and some did with Victor Osimhen owing to his ability to find space inside the box. These names would be a welcome to the Blues' from Merseyside… and definitely so, it's time to be excited…
Understanding Beto's Profile 
Advertisement
To put in simple words, Beto is the archetype Centre Forward and his profile is the essence of being a typical Box striker: Meagre involvement outside box, strong hold up play to lay off and scoring all his goals from inside of the 18 yard box, a pure box poacher. These qualities would make Beto suitable for Dyche as he envisions a striker to bring teammates into play and feed on chances that emerge inside the box.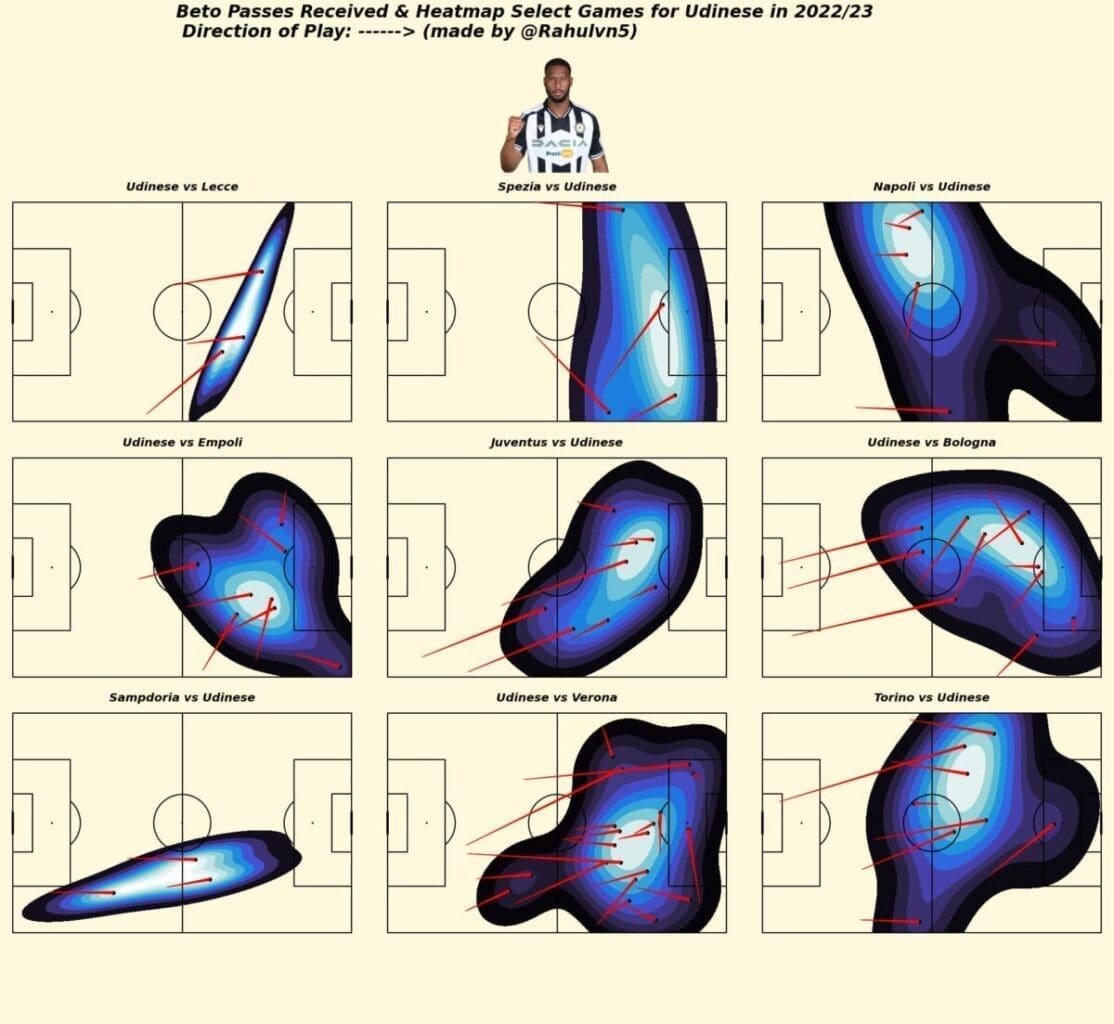 As mentioned Beto's passes receiving is likely in places where he's supposed to lay off for teammates: In and around the box in halfspace areas or in areas closer to the halfway line against more bigger teams show his profile. There are barely few passes he's received inside the box, and in Everton's context this becomes a crucial point given they will be against stronger Premier League teams most of the games where they essentially can't always service to the tee for Beto.
Looking at Beto's Successful passes played game by game, it serves as an authentication of what we talked about: How he lays off for teammates around him, if we closely observe the passes Beto's made we can see most of them are angled away from the goal and represent passes that strikers that hold up and lay off make. On an Average, Beto made about 3-4 successful passes in line with the low amount of passes he receives but in a more quality team, there's potential that he could generate more.
Can A Partnership with Chermiti be on Cards??
We analyzed Chermiti's profile in a previous article on that provided an outlook on Everton as a whole and one of the primary things discussed was Chermiti's profile as a Center forward, and in most ways he's largely similar to Beto and this can be a clue that Beto is seen as the main forward while Chermiti is seen as the ideal understudy and being fellow countrymen, the hope is it helps in Chermiti's development faster.
Conclusion
At the time of writing this article, Beto has already made his debut and scored for Everton in the EFL Cup clash against Doncaster. So as the season goes, Beto is expected to become a crucial piece in Everton's fight to rise in the standings in the Premier League and increase Everton's Goal threat.
Advertisement