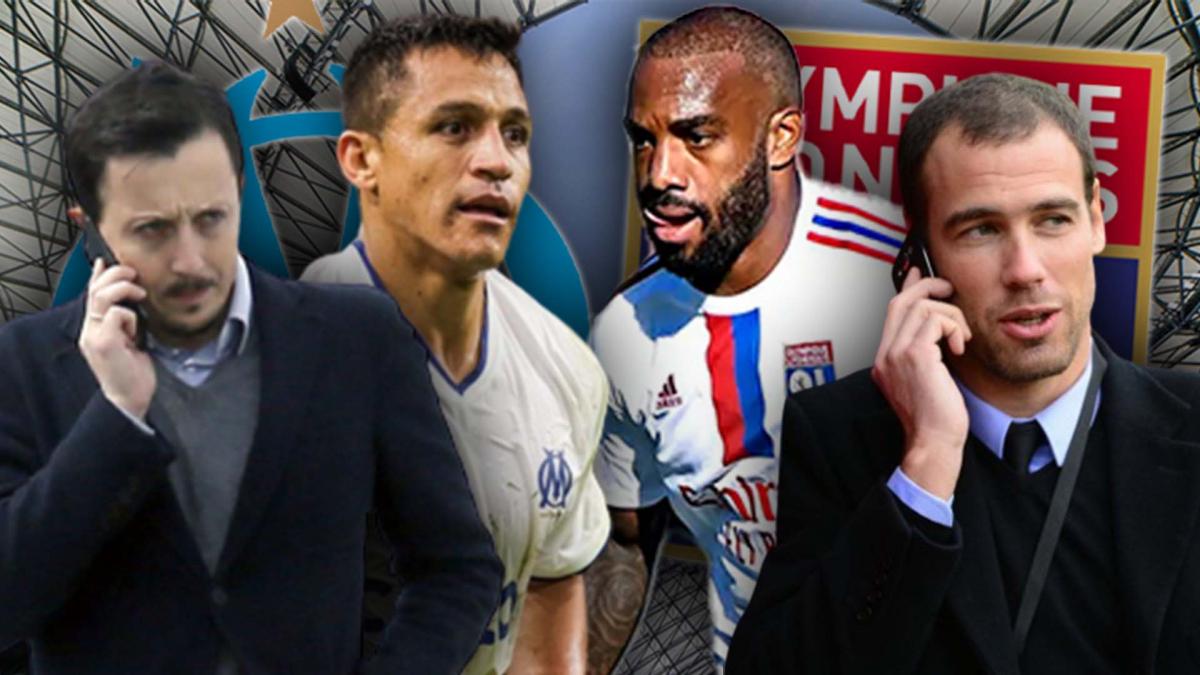 Sunday evening, Olympique de Marseille and Olympique Lyonnais will face each other at the end of the 14th day of Ligue 1 (match to be followed live on our site with live commentary). A clash at the top that has already started a few weeks ago. July 1st to be precise. That day, the Gones, who had already obtained the signatures of Alexandre Lacazette, Rémy Riou and Johann Lepenant, had formalized the return of Corentin Tolisso as well as the new loan from Tetê. As tradition dictates, a press conference was organized immediately after with Jean-Michel Aulas, Vincent Ponsot (director of football) and Bruno Cheyrou (head of the recruitment unit).
Bruno Cheyrou set fire to the powder
All showed wide smiles, happy to have been able to extend the talents of the club (Anthony Lopes, Maxence Caqueret, Rayan Cherki, Mohamed El Arouch) and repatriate former glories of the club to launch the new OL DNA project while achieving blows with Lepenant, Tagliafico and Tetê. Satisfied with this start of the transfer window, which moreover delighted some of the Rhone supporters, Bruno Cheyrou took the opportunity to launch a completely free spade at OM, where Jorge Sampaoli threatened to slam the door before the resumption because recruitment n wasn't moving fast enough for his liking. "There may be coaches in other Ligue 1 clubs who want to leave because they are jealous of the recruitment we are doing."
Statements that were not necessarily appreciated in the Marseille city. On the side of Lyon, we were not really a fan of this media release either. Especially since the rest of the Lyon transfer window was not up to par. Indeed, the residents of Groupama Stadium have not managed to recruit a central defender to compensate for the loss of Jason Denayer. Issa Diop had been contacted without the file going to the end. Subsequently, the Rhone leaders had followed the plan of Peter Bosz, who had decided to reposition Thiago Mendes in the central axis. An astonishing choice, which could possibly serve as a short-term solution but over a season that is difficult to understand why Lyon did not recruit for this position. A terrible failure.
The two Olympics do not have the same dynamic
Same thing for the quest for a right side, where Malo Gusto has lacked a real competitor since the departure of Léo Dubois at Galatasaray. Other reinforcements would have been good but OL couldn't really get going since the club failed to cut back. Admittedly, some elements have left or been loaned (Y.Koné, Ozkaçar, Kadewere, Dubois, H.Keita, P.Diop for example). But apart from the departure of Lucas Paqueta to West Ham, the other expected big sales, in particular that of Houssem Aouar and Moussa Dembélé, have not arrived. Also free in 2023, Jérôme Boateng and Damien Da Silva remained. This missed degreasing also has important consequences since several young people who could have regularly joined the group have been sent to reserve.
For their part, OM had to digest the surprise departure of Sampaoli. But Pablo Longoria reacted quickly by appointing Igor Tudor. The Marseille president had warned that he would take his time during the transfer window. Despite qualifying for the Champions League, he had to both slim down while being smart to recruit since he did not have colossal means and had to deal with the supervision of OM's payroll and compensation. mutations. But this constraint was not effective this summer since the DNCG decided not to take any action against OM on June 23. Then, the Marseillais were able to pass the second while being patient so as not to pay crazy sums.
OM have lost more fat, OL have collected more
Pablo the good tips has struck again with a dozen recruits including Alexis Sanchez, Jordan Veretout, Jonathan Clauss, Luis Suarez, Chancel Mbemba, Amine Harit, Eric Bailly, Issa Kaboré, Nuno Tavares or Ruben Blanco to name a few. than them. Between loans and transfers, the president managed to sign several elements to be able to be competitive on all fronts. At the same time, the Marseille leaders have managed to get rid of undesirable players, whose salaries are sometimes too expensive. Steve Mandanda, Jordan Amavi, Alvaro Gonzalez, Duje Caleta Car, Nemanja Radonjic, Kevin Strootman, Pol Lirola, Konrad de la Fuente, Luan Peres, Luis Henrique, Cédric Bakambu and Arkadiusz Milik have all left.
OM recovered around 16 million euros but above all reduced its payroll. The club could even have made more money with Boubacar Kamara, who trained at the club and left free. This is the black point on the departures side. But overall, the Marseillais, who took advantage of the good network of Pablo Longoria, lost more fat than Lyonnais (about fifteen departures against ten on the Lyon side, if we do not count the players returning from loan like Ndombélé and Emerson), where some executives were waiting for agents to bring back interesting offers for players rather than rushing to place them elsewhere. On the other hand, OL won more money (45.5 million euros, 63.5 million euros if we count the bonuses linked to the transfer of Paqueta). In terms of expenses, Lyon (8.5 million euros) was however reasonable.
The Longoria paw makes the difference according to the Lyon press
But did the club have a better transfer window than OM, as Cheyrou had implied? Journalist for the site olympic-and-lyonnais.comRazik Brikh gives us his opinion: "on paper at time T and we see it with the current ranking, we can say that the Marseille transfer window is better than that of Olympique Lyonnais. We see Pablo Longoria's paw. He has a network in the world of football, he imposes his vision of football, his players. So we really see that there is a stranglehold of Pablo Longoria on this transfer window, which he anticipates. Sanchez is not bad, Bailly is not bad even if he has a few injuries. Harit's return too. Loans, loan returns, we see that there is anticipation and we have the feeling on paper, because it will be necessary to judge at the end of the season, that the transfer window was the best in the end. But OM have done quite well in their summer transfer window. Concerning OL and this is where we can make the link with the clumsy and premature exit of Cheyrou precisely, for me, on paper OM recruited better "
He pursues : "At OL, the arrivals of Lacazette and Tolisso, who is injured and who has a lot of problems, have hidden the shortcomings in terms of recruitment. Malo Gusto lacks a competitor, because, of course, you have to give playing time and that's good because he's young and a regular, but at his age he needs to have real competition. It also lacks a professional central defender, that everyone has seen. Laurent Blanc the first. Da Silva is very complicated. He does not have the level for OL. With his legal setbacks, we don't really know what Boateng will do, if ever he is convicted. It lacks a n°6, a real winger too (…) It is for this reason that Vincent Ponsot or Bruno Cheyrou are highly criticized. It is difficult to understand, in terms of choices, the sports organization concerning these transfer windows and the last one, who does what? Where are they coming from? Who's deciding ? Are we anticipating or not? This is the eternal debate at OL concerning the sports unit and the transfer window. On the side of Lyon, it is therefore estimated that OM has thought out its transfer window better. What about the Marseille side?
OL better armed according to the Marseille press
Karim Attab, journalist for Maritimaalso gives us his analysis. "The Marseille transfer window seemed to be rather interesting, especially in August with the good performances and the good results of OM compared to the Lyon transfer window which had a little more difficulty getting started, finding its bearings. Despite the fact that Lyon had less good results and that there was a change of coach, some players managed to find their place in the squad, such as the young Lepenant, Lacazette and, in homeopathic doses, Tolisso without forget Tagliafico, which has been pretty good for a good month now. He brings a little more to this Lyon team than what rookies can bring to OM, even if Clauss and Tavares, to a lesser degree because he is in the process of lowering his foot, are interesting at the piston position. Alexis Sanchez is there well in place but he does not have the same offensive performance as a Lacazette (6 goals including 4 in L1 for the Chilean, 8 goals and 3 assists for the French in L1). Amine Harit too, in homeopathic doses. For the moment, they are a little below. So I would say that for the transfer window the transfer window of Lyon is a little more positive even if there is not a huge gap between the two transfer markets, no offense to Bruno Cheyrou ". Overall disappointing, like Luis Enrique, Marseille recruits must bring much more according to Karim Attab.
"At OM, what hasn't worked if we stay on the mercato field is that the standard team that was set up after a few weeks by Igor Tudor is not really complementary even if the contents of the matches are interesting. OM are still on a rather catastrophic series, whether in the league or in the Champions League, when they had an exceptional start to the season with 19 points taken out of a possible 21. Then it was the descent into hell with 5 points out of 18 possible. The recruits did not bring everything that could be expected of them. There is a Chancel Mbemba, who is very good and who is undoubtedly the number 1 recruit in the Olympian transfer window. But aside, Longoria had bet on Eric Bailly who, with just over 500 minutes played since the start of the season, does not provide guarantees because of an extremely fragile and deficient physique. Jordan Veretout, who was nevertheless bought at almost no gold price, is in the process of revving up but he has not yet marked his mark in the middle of OM. When you buy a player between 12 and 15 million euros and he has a big salary, you have legitimate expectations. For the rest, I talked about Clauss, who has a better rating for me than Tavares. Tudor should be able to remobilize everyone and empower a little more players because here we are locking ourselves into a pattern where you have players who hardly play or no longer play like Payet or Gerson and that maybe a problem in a group that is not very large. But in Marseille, where we will try to recruit a defender, a midfielder and a striker this winter while slimming down, as in Lyon, where a defender will be the priority, the summer transfer window was ultimately incomplete. So no jealousy, no offense to Bruno Cheyrou…
[Pour cet Olympico avec Parions Sport en ligne, gagnez jusqu'à 100€ de freebets en misant jusqu'à 100€ et 10€ offerts sans dépôt avec le code FML1. Créez votre compte dès aujourd'hui pour profiter de cette offre exclusive. Misez 10 € sur une victoire marseillaise 2-1 contre l'OL, cotée à 8,70, pour remporter 87€. (cotes soumises à variation)]