Advertisement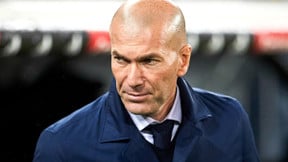 Advertisement
Advertisement
Advertisement
Zinedine Zidane is looking for a club to coach next season. Barred by Didier Deschamps, at the head of the France team until 2026, the Ballon d'Or 1998 should probably sign in a prestigious club this summer. But the game of the transfer window means that many tracks are activated and that Zidane's future finds itself undecided.
THE Brazil did not really make an impression during the World Cup 2022 At Qatar. The men trained by Titus at the time had been eliminated in the quarter-finals of the World Cup against the Croatia. And the Brazilian federation would be very tempted to bring in the current coach of the Real Madrid, Carlo Ancelotti. Opening the door to Zinedine Zidane? Possible.
Meeting scheduled for April 6!
According to the Brazilian journalist Renata Fan, relayed by the Spanish daily brandthe Brazilian federation would consider meeting Carlo Ancelotti. Its president, Ednaldo Rodrigues will try to convince the Italian coach to take charge of the Brazilian selection. " It's not a dream, it's something very concrete for Brazil. They want a coach with experience, who arrives and wins, as Ancelotti has already done in Europe. In Brazil, when they talk about Carlo, they see a great manager who has already won everything " explain Renata Fan.
Unlikely proposal for Zidane, PSG is already fixed https://t.co/OibBcReY7r pic.twitter.com/hw4vR0QYJ5

— 24hfootnews (@24hfootnews) March 29, 2023
Free way for Zidane?
THE Paris Saint Germain dream of bringing Zinedine Zidane on his bench, as we revealed to you exclusively. However, the real Madrid seemed to have made Julian Nagelsmann his priority but the recently sacked coach of the Bayern Munich would rather have the favors of England… If this is the case, Zidane would be heading not towards the PSG as expected, but towards the Real Madrid.