Zidane: PSG contact another star coach, Qatar's big shot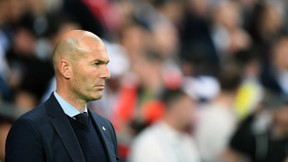 Advertisement
Barring a huge disaster in Ligue 1, the duo of Luis Campos and Christophe Galtier should keep their jobs at PSG next season. But behind the scenes, Qatar would prepare for all eventualities and would inquire about the situation of certain renowned technicians such as Zinédine Zidane or Jürgen Klopp.
Despite the defeat of PSG in the round of 16 Champions League, Christophe Galtier is expected to keep his job next season, just like Luis Campos according to exclusive information from 10Sport.com. Only the loss of the title of champion of France could push them towards the exit. For now, the PSG is firmly installed in the first place of the classification, but all the scenarios are considered by the Qatar. The club would have established a list of coaches likely to replace Christophe Galtier on the Paris bench. Among them Zinedine Zidane.
He is sent away from PSG, Zidane can be jubilant https://t.co/NAavMp5Anb pic.twitter.com/HEHkaQFamY

— 24hfootnews (@24hfootnews) March 29, 2023
Zidane in the sights of Qatar
For many months, Zinedine Zidane is the great dream of Qatar, who was already hoping to welcome him last year, when he left Mauricio Pochettino as announced exclusively by 10Sport.com. The 1998 world champion then hoped to regain control of theFrench team and had rejected this offer. But despite this refusal, those responsible for the PSG would keep hope and would have established contacts withc Zidane according to the Italian press. A case led by Nasser Al-Khelaifi according to information from the journalist Rudy Galetti. But this Wednesday, Football Media announces discussions with another renowned coach.
Klopp contacted by PSG
According to this source, the PSG would have entered into discussions with Jürgen Klopp. Present on the bench liverpool since 2015, the German technician would be another objective of the Parisian club. But linked to the English club until 2026, Klopp going to have to be convinced, which is far from being done, both his attachment to Reds is strong.
Advertisement