Advertisement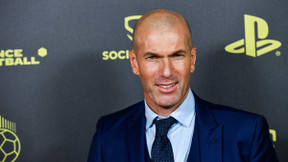 Advertisement
Advertisement
Advertisement
Facing Strasbourg on Saturday evening, PSG has the possibility of winning an eleventh title of champion of France, which would be a record. Once this is achieved, the time will come to focus a little more on the summer transfer window for Luis Campos. The track leading to Manuel Ugarte is very hot, as is that of Lucas Hernandez at Bayern Munich. But Paris could also change coaches. Qatar still dreams of a certain Zinedine Zidane.
We may therefore have to wait until the 37th day of this season to see the champion of France appointed. The identity of this one, surely the PSG is almost a habit now in recent years, but the ease of acquiring this title is changing. Paris did not fly over the League 1 as may have been the case in certain years, particularly at the time of Zlatan and Company. The difficulties were numerous for the club of the capital, which had difficulty in the face of pressure from Marseille, but especially Lensoise. To correct this, the Qatar will be busy this summer on the transfer window.
Ugarte, Hernandez, Bernardo Silva as hot files
Luis Camposthe football adviser of the PSG has been active on several files for weeks while the summer transfer window is not even open. According to information from The TeamTrack Manuel Ugartethe midfielder of SportingPortugal is very hot. Paris would also have an agreement in principle with the French world champion Lucas Hernándezbut not with his club, the Bayern Munich. In attack the most important file leads to Bernardo Silva. The attacker of Manchester City could be tempted by a new challenge and thus return to League 1after a successful first stint at theAS Monaco. As 24hfootnews.com revealed to you exclusively, Fields And Mbappe await the Portuguese in the city of light.
PSG: The huge revelation on a €60m offer https://t.co/2CdktMuI8l pic.twitter.com/ckG7BvIFiy

— 24hfootnews (@24hfootnews) May 26, 2023
Will Galtier still be the PSG coach next season?
According to many sources, including The Team And RMC Sports, Christophe Galtier should no longer be the coach of the PSG next season. The club of the capital multiplies the tracks to replace it, and the main one leads to Zinedine Zidane. According to information from Get French Football Newsthe former coach of real Madrid is a dream for Paris who wants to bring him next season. Already last year, the Parisian staff had made ZZ his main target, but it was ultimately the former tactician from Nice who had been chosen by Luis Campos. So Jose Mourinho would only be the second choice and would become a serious track in the event of refusal by the 1998 world champion. But as 24hfootnews.com revealed to you exclusively, Christophe Galtier should stay next season at Parisexcept disaster.